---
To me, the best cooperative party games are the ones that are quick to set up, easy to teach, and highly interactive. I also like party games because they usually let me turn my brain off for a bit and just have some fun. They're certainly playable during normal game nights, but you're really happy to have them on your shelf when you have a larger group that just wants to get right into the games without having to learn a lot of rules.
The difference between the Top Board Games for Larger Groups list and this list of top party games is pretty simple: that list ranks any type of co-op for large groups and this one ranks games based on how well they play as co-op party games. Check out that other list if you're simply looking for any cooperative games that play well with more people.
The cooperative party games on this page have all worked well for my group over the years. I am very confident that at least a couple of these games will work for you if you're looking for a light co-op that is a blast to play at higher player counts.
Okay, on to the list! Below are some of the best co-op party board games that you can get right now!
---

Spaceteam is a real-time card game that requires a heck of a lot of teamwork and creates a heck of a lot of chaos. Your goal in this one is to fix your ship by getting the tools you need to deal with all of the malfunctions. There's usually a lot of yelling and a lot of laughing in each five-minute session of Spaceteam, which makes it perfect if you're looking for a quick filler game for up to six people.
Read our Spaceteam review
---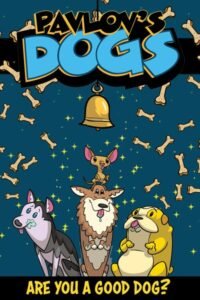 Pavlov's Dogs is a cooperative party game that can be played by up to eight people, and it definitely works at those larger player counts. This is a memory game in which you have to remember instructions given to you by your current team leader, such as "barking" every time a certain card number is played.
Pavlov's Dogs is super goofy and pretty tough beat, especially if you have people in your group (like me!) who have a tough time remembering the rules. I think this game has gotten more laughs out of my group than any other party game on this list.
Read our Pavlov's Dogs review
Get your copy of Pavlov's Dogs
---

If you think your group might like a little bit of dexterity in their cooperative party games, then you'll want to check out Dungeon Fighter. In this one, you have to roll a die near a target in the middle of the table to take down monsters, but you're often forced to do so in non-standard ways. Hitting the bullseye pretty much always gets big cheers and missing often gets big laughs.
My group still plays Dungeon Fighter at least a couple of times per year when we're in the mood to play a more active party game.
Read our Dungeon Fighter review
Get your copy of Dungeon Fighter
---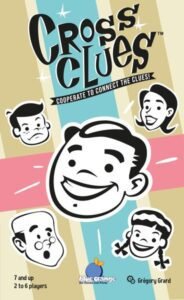 Cross Clues is a word association party game in which you give and get one-word clues in an attempt to fill up as much of the grid as you can. What I like about this one is that there is no turn order since anyone can give a clue at any time and everyone can take part in trying to figure out the clues. It's a ton of fun and it has very high replay value.
Cross Clues fits more into the "relaxing party game" category, but that's exactly what groups need from time to time.
Read our Cross Clues review
---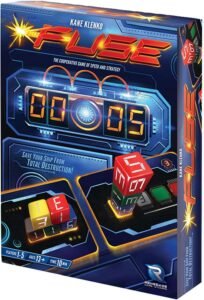 For my group, Fuse has been one of the top party board games around for years now. This is a great real-time co-op game in which you attempt to work with your teammates to quickly defuse bombs. You roll dice, match (and sometimes stack) numbers and colors on cards, and call out when you need some help. You will be pretty exhausted after each 10-minute game, but you'll usually want to get right back in there and try again.
Read our Fuse review
---
---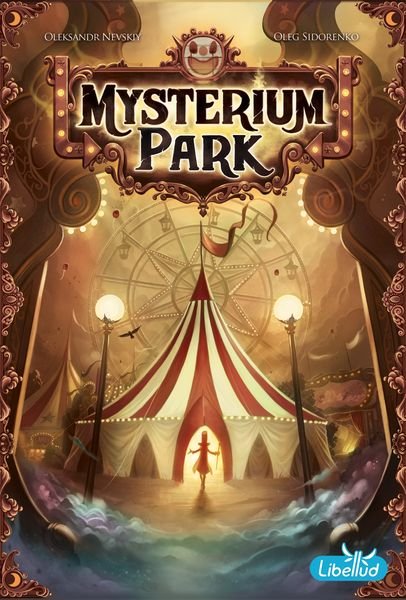 A lot of gamers have Mysterium Park (or the original Mysterium) at the top of their list of best party board games because it has an awesome murder mystery theme and it has some of the best board game artwork out there. Regardless of whether you're the ghost (the clue-giver) or you're attempting to figure out the connections between the gorgeous illustrations, Mysterium Park is just a consistently fun party game to play.
I put Mysterium Park here over the original Mysterium simply because it is slightly easier to learn how to play. Both work great as co-op party games.
Read our Mysterium Park review
Get your copy of Mysterium Park
---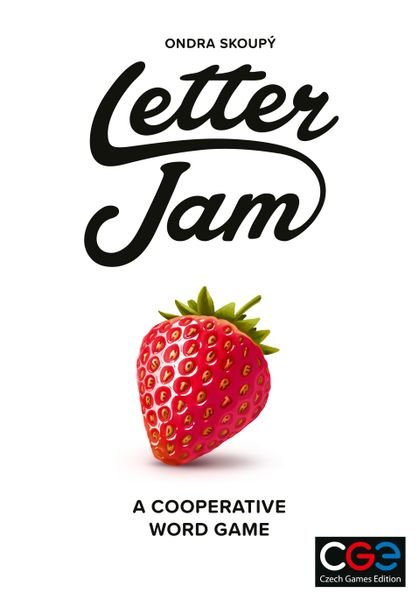 Letter Jam is probably the most complex party game on this list, but if you think your group can get into a challenging word game, this might just end up being the best one for you to pick up. In Letter Jam each player is trying to figure out what word they have in front of them after slowly getting a little bit of information about everyone's cards through clues. It takes a lot of good teamwork to win, but my group has a blast playing it every time it hits the table.
Read our Letter Jam review
---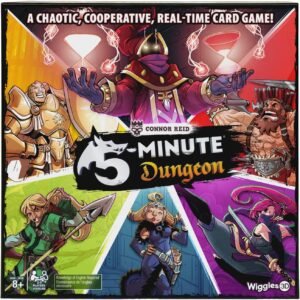 5-Minute Dungeon is an excellent real-time co-op card game in which you use your heroes' powers to fight through a dungeon and then attempt to take down that dungeon's boss. It gets as hectic as real-time games can get, but it is also very satisfying when you're able to work together to get through those dungeons.
Anyone who has seen how high 5-Minute Dungeon is on the Best Cooperative Board Games Ever list might be wondering why it isn't at the top of this party games list. Well, it's mostly because it's not one of my group's top two go-to party games right now, but that's because we play it year-round at all player counts. However, it does work great at five players and plenty of people do have it as their top party game.
Read our 5-Minute Dungeon review
Get your copy of 5-Minute Dungeon
---

For most people, So Clover! checks all of the boxes when they're looking for cooperative party games. It has simple rules, there's a good flow to it, there's plenty of laughter, and it has very high replayability. What makes this word game unique is that everyone is a clue-giver and a clue-solver, so there's really no downtime. It is pretty challenging, though, which makes going for high scores that much more fun.
I'm pretty sure I've played So Clover! more than any other party game over the last year or so.
Read our So Clover! review
---

Of all of the cooperative party games that my group has played, nothing has been as consistently awesome as Just One. In this one, you simply write down one-word clues to try to help the guesser figure out the mystery word that's hidden from them. It's especially fun (and hilarious) at higher player counts because matching clues get canceled out and the guesser can sometimes be left with just one random word to work with.
Just One is easily the most addictive party game that I've played and I pretty much always bring it with me when I know there's going to be a larger group playing.
Read our Just One review
---
What are some of your favorite cooperative party board games? Any that didn't show up on the list?
Be sure to subscribe to our newsletter if you want more co-op board game content sent right to your inbox!
---