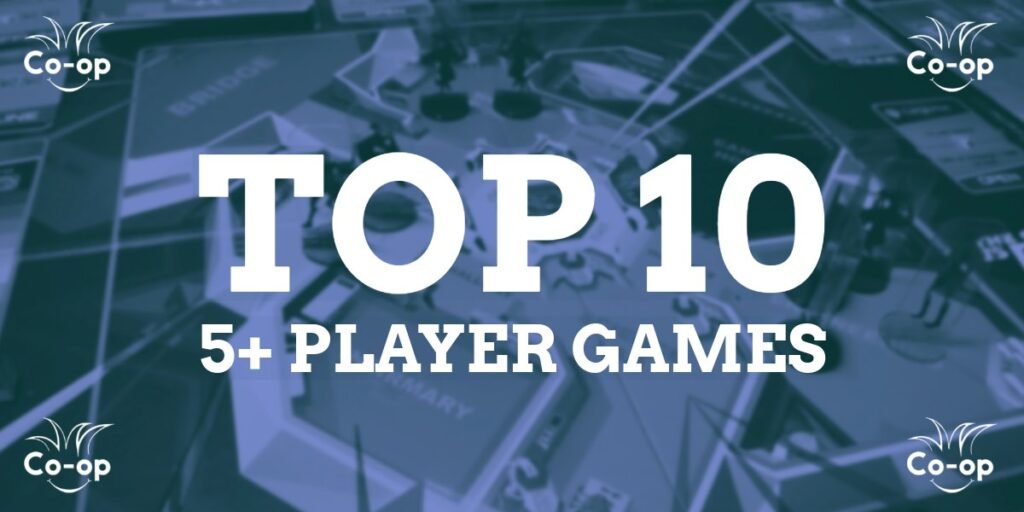 ---
It's not easy to find any type of board game for more than four players. That's especially true when you're looking for cooperative board games for five or more players.
The truth is that most of the best cooperative games max out at four players. There are a lot of co-op games that support five players or more, but I'd consider most of them just "playable" at higher player counts and much better with fewer players.
To me, the best 5+ player board games are the ones that can keep every player engaged throughout while minimizing any additional play time. In most cases, if adding more players just makes a game longer, that game is probably better with fewer players.
I should point out that the co-op games on this page aren't necessarily at their best with 5+ players. They're just games that play well at those higher player counts.
Okay, let's get to it! Below are some of the best cooperative board games to play with five or more players!
---
Players: 2-6 | Ages: 10+
So Clover! is a word association game in which you first write down connections between your words and then your teammates try to find those connections.
What I like about this one is that everyone is working on their boards simultaneously before trying to solve each player's board one at a time. That gives the game a better flow than you get from most other party games.
If you like word games and want one that plays well at higher player counts, So Clover! should work for you.
Read our So Clover! review
---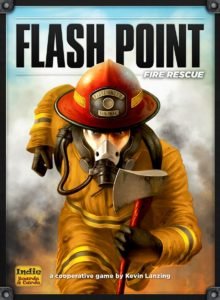 Players: 1-6 | Ages: 10+
Flash Point: Fire Rescue is one of the better co-ops to get if you're looking for great family games that you can play with more players. The firefighting theme is something that most people can get into and the rules are simple enough for newer gamers to grasp.
Flash Point works well as a five or six-player board game because turns go by so quickly. You do spend a little bit of time cooperatively going over how to approach each round, but each turn is pretty snappy after that.
Read our Flash Point: Fire Rescue review
Get your copy of Flash Point: Fire Rescue
---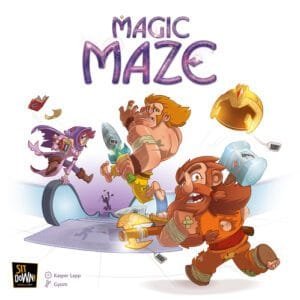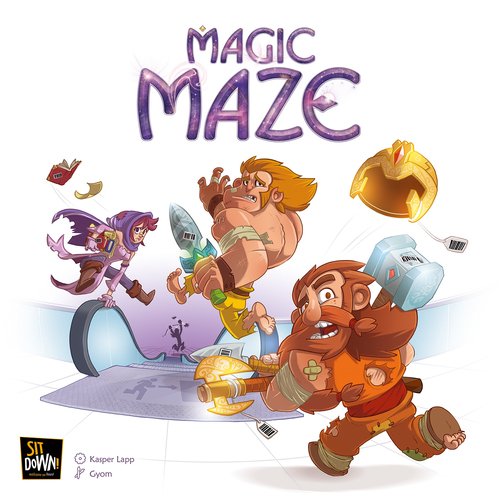 Players: 1-8 | Ages: 8+
Magic Maze is a real-time board game with a limited communication twist. You're attempting to move around a mall, steal items, and get out. That's a tough task, though, because you can't talk to each other and each player only has so much control over the four characters' movements.
I've never played an eight-player game of Magic Maze, but I can say that it works well at the other player counts because it's pretty much the same game regardless of the number of players. It's silent chaos and most people love it.
Read our Magic Maze review
---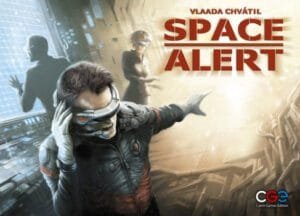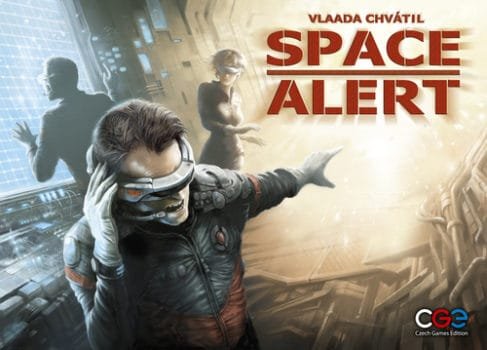 Players: 1-5 | Ages: 12+
Space Alert is one of the best real-time board games out there. It's a programming game that has you attempt to keep different kinds of space threats from destroying your ship.
Space Alert is probably the most complex five-player co-op board game on this list, but it is definitely worth learning how to play it if you enjoy real-time games or the Star Trek-esque theme.
Read our Space Alert review
---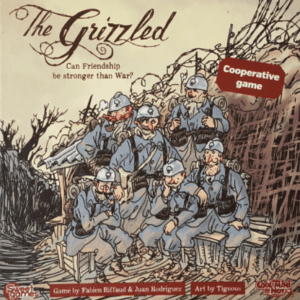 Players: 2-5 | Ages: 14+
In The Grizzled, you play as soldiers during World War I who are just trying to survive in the trenches until war ends. What's interesting is that there is no fighting in this game. You just have to work together to survive through all of the threats (bullets, bad weather, etc.) that come your way.
My group has played multiple memorable five-player games of The Grizzled. The tension is very high with five players as you try to figure out how to play as many cards as you can without losing missions.
If the theme interests you, definitely give The Grizzled a play.
Read our The Grizzled review
---
---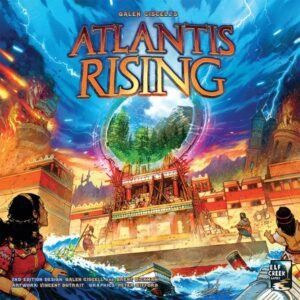 Players: 1-7 | Ages: 10+
Atlantis Rising is an awesome cooperative worker placement game in which you try to gather resources and get off your island before it sinks. This is one of my top 10 co-op board games because it requires a lot of cooperation to beat, it looks fantastic on the table, and it has a nice blend of worker placement and push-your-luck dice play.
I'd say Atlantis Rising plays well at most player counts, but it really shines as a five-player co-op board game. If you're a fan of worker placement games, I highly recommend getting Atlantis Rising.
Read our Atlantis Rising review
Get your copy of Atlantis Rising
---
Players: 1-7 | Ages: 12+
The Captain Is Dead is an excellent board game to get if you like the science fiction theme and you enjoy challenging co-ops. In this one, you're working together to fix your ship's engines while simultaneously trying to deal with the aliens that are trying to destroy you before you get away.
I think The Captain is Dead plays best as a five-player game, and it's still very playable and fun all the way up to seven players.
Read our The Captain Is Dead review
Get your copy of The Captain is Dead
---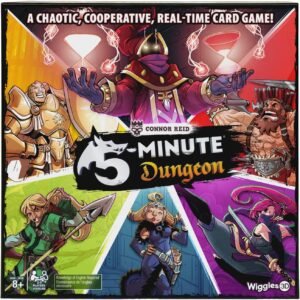 Players: 2-5 | Ages: 8+
5-Minute Dungeon is a real-time game in which you get five minutes to use your heroes' cards and abilities to get through each section of the dungeon. In my opinion, this is still the best real-time game out there right now.
I've played 5-Minute Dungeon more than any other game on this list, and a bunch of times at each player count. I like it best as a four or five-player co-op game since it creates even more chaos, but it's a great board game no matter how many people are at the table.
Read our 5-Minute Dungeon review
Get your copy of 5-Minute Dungeon
---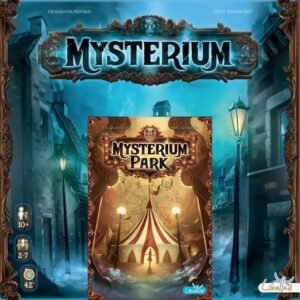 Players: 2-7 | Ages: 10+
Mysterium and Mysterium Park are two different but similar horror board games in which one person plays as a ghost and the others play as investigators trying to solve a murder. The ghost gives clue cards with unique images to the investigators and then the investigators try to figure out what those cards represent.
I think a lot of people would put these two games near the top of their best 5+ player games lists. They play the same way regardless of player count, but having more than four players at the table gives them a true murder mystery feel.
I recommend getting Mysterium if you want more of a classic haunted house/ghost story vibe. Mysterium Park is a great choice if you want a more streamlined game that is easier to get to the table with different crowds. My group plays both of them.
Read our Mysterium review
Read our Mysterium Park review
Get your copy of Mysterium … or Get a copy of Mysterium Park
---
Players: 3-7 | Ages: 8+
Just One is a cooperative word game in which one person has to guess a word based on the one-word clues that their teammates give them. The twist in this one is that any matching clues get canceled out, so everyone has to think creatively.
Just One is my group's favorite five-player board game because it is consistently a great time at higher player counts. It's great even with three players, but with five, six, or even seven players, it's a hilarious and awesome experience because the odds of there being matching clues are very high. That creates some extra (satisfying) tension.
If you like word games at all and you're looking for a great co-op for five or more players, I highly recommend adding Just One to your collection.
Read our Just One review
---
What are your favorite 5+ player board games? Any that didn't make this list?
Be sure to subscribe to our newsletter if you want more co-op board game content sent right to your inbox!
---