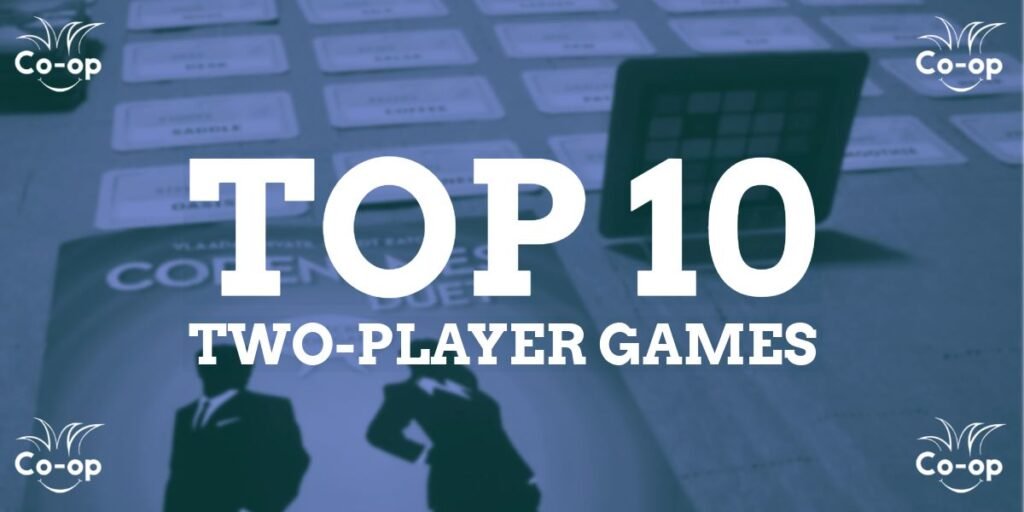 ---
When I am searching for cooperative board games for two players, I want games that give both people an equal amount to do throughout each game. I also want these games to be challenging, at least a little thematic, and, obviously, they need to be fun! Luckily, there are now quite a few co-ops for two that check those boxes.
Most of the games on this page can be played with more than two players. They are, though, in my opinion, best at the two-player count and they are the co-op games that hit the table the most when it's just me and one other person. You could also look at it as a list of great board games for couples since I know many of you are looking to find games for you and your partners.
Note: I decided not to include games that I think provide better experiences at other player counts. If you want a larger list to look through for great co-ops, you'll want to check out the Top Cooperative Board Games list.
So let's get to it, then… Here are some of the best cooperative board games for two players!
---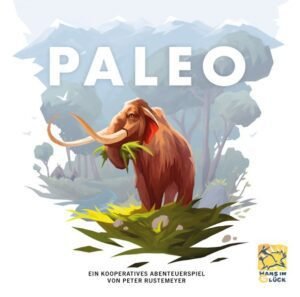 I am a huge fan of exploration board games, and Paleo is one of the best co-op games at the two-player count in that genre. It does play very well at three and four players, but two players is definitely its sweet spot. Paleo has a unique card-selection system, it is very replayable thanks to the different modules it comes with, and it looks great on the table.
If you are looking for a two-player adventure game that requires a lot of cooperation, chances are you will end up being a big fan of Paleo.
Read our Paleo review
---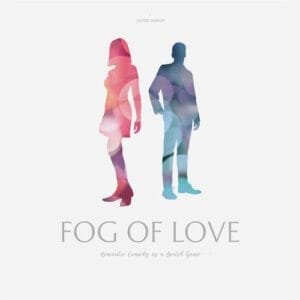 Want to role-play through a relationship? If you said "yes," then you definitely want to check out Fog of Love. This strictly two-player co-op board game is unlike anything else I've played. There are hilarious moments and there are moments where you really need to read your teammate. It has consistently created memorable experiences for me and everyone I've played it with.
Fog of Log can be a fun two-player board game for couples to play, but I actually think it's better to play it with a friend to avoid bringing your current relationship into the game.
Read our Fog of Love review
---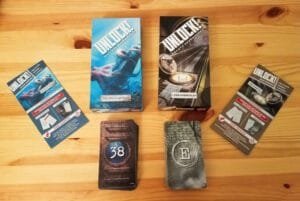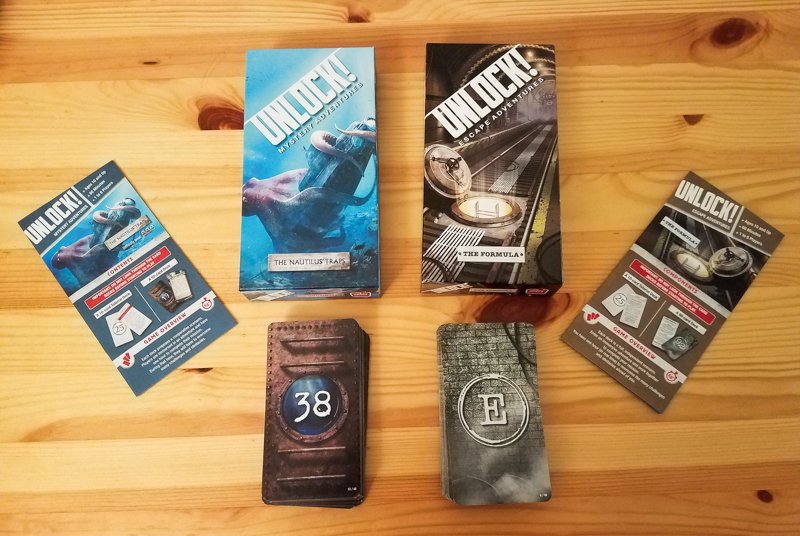 Unlock! is my favorite co-op escape room system, especially at the two-player count. I like it best at two because there isn't so much going on that you need more than two people working on the puzzles, but it's still a lot of fun working with another person to try to solve them. It's awesome that these games play so well at two because they allow you to get an escape room experience without having to get a big group together.
Some Unlock! games have been better than others, but I haven't had a bad time with one yet. Heroic Adventures is my favorite Unlock! set so far.
Read our Unlock! review
---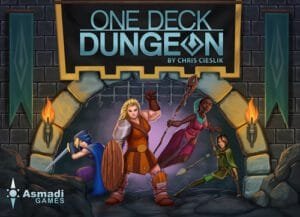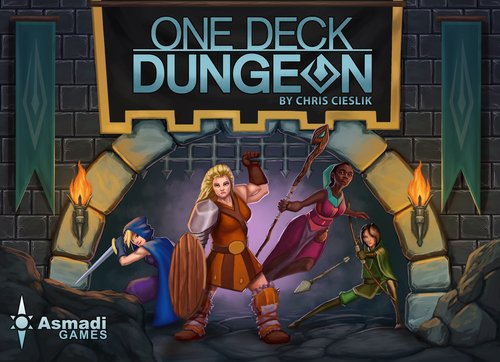 It might surprise some gamers to see One Deck Dungeon so high on this list, but I've been a huge fan of it for a while now and everyone I've played it with has had a great time playing it, as well. It is a fantastic solo or two-player cooperative dice game that I prefer over most of the bigger dungeon crawlers out there. It's mostly all about chucking dice, but that doesn't prevent the theme from coming through.
One Deck Dungeon is one of the best co-op games for two players to get if you want a quick and challenging two-player fantasy game with a heavy amount of tactical gameplay and cooperation. If you'd prefer a space/sci-fi theme over fantasy, take a look at One Deck Galaxy.
Read our full One Deck Dungeon review
Get your copy of One Deck Dungeon
---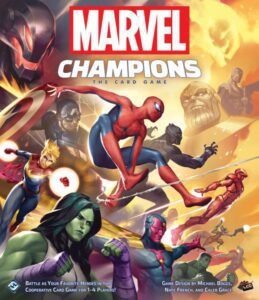 I can recommend Marvel Champions to absolutely anyone who is looking to find great two-player cooperative card games, but it's an even better game if you happen to be a Marvel fan. There are some really great mechanisms in this game, including multi-use cards and multiple ways to use your heroes. It also has plenty of deck customization options. It's an excellent board game for two people to play, but it also works very well with three or four.
The Marvel Champions base box has a bunch of the most popular Marvel characters for you to play with and play against, and you can add in a lot more content if you get one or more of the expansion boxes and packs.
Read our Marvel Champions review
Get your copy of Marvel Champions
---
---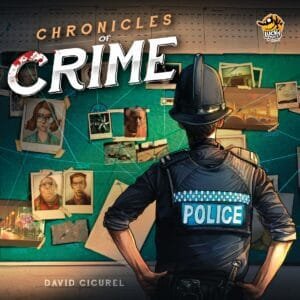 In my opinion, if you're looking for a two-player detective game, Chronicles of Crime is still the best one. I do think Sherlock Holmes Consulting Detective is the better game overall, but I prefer playing that one with three or four players since those cases are pretty complex and there is more for everyone to do. Two players is definitely my preferred player count for Chronicles of Crime because you can just pass the phone back and forth to scan cards and to search the crime scenes.
If you end up enjoying the base game, there are already a bunch of new cases for Chronicles of Crime, including the ones found in the expansions Noir and Welcome to Redview.
Read our Chronicles of Crime review
Get your copy of Chronicles of Crime
---

I really don't think you're going to find a better cooperative word game than Codenames Duet right now. This is my group's favorite version of Codenames because it's a very challenging two-player game that adds in new ways to strategize.
You'll definitely want to check out Codenames Duet if you like word games and/or deduction board games, or if you just want to add one of the best lightweight two-player co-ops to your collection. This is also the game I'd recommend if you're specifically looking for board games for couples since you don't have to worry about the theme working for both of you.
I think I'll still be playing Codenames Duet semi-regularly 10+ years from now since I consider it to be one of the best filler games that you can get.
Read our full Codenames Duet review
Get your copy of Codenames Duet
---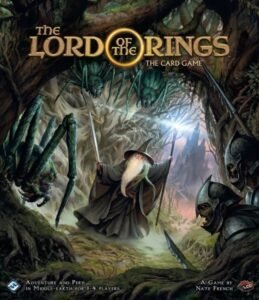 The Lord of the Rings: The Card Game is easily one of the top two-player cooperative card games around. It's one of my group's top adventure board games because of the great mix of locations, the distinct characters, and the amazing artwork. I do think it plays better with two players than as a solo game, but solo is awesome, too.
Journeys in Middle-Earth could have been included in this list since it's also a great two-player co-op, but I wanted to give you guys more theme options. Journeys in Middle-Earth is one of the best two-player campaign board games that I've played, but it also plays well at higher player counts. Just know that if you want a great The Lord of the Rings two-player game, you can't go wrong with either one of these games.
Read our The Lord of the Rings: The Card Game review
Get your copy of The Lord of the Rings: The Card Game
---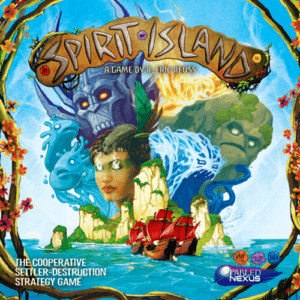 Spirit Island is an excellent cooperative strategy game that I have been playing regularly for years. Your goal in Spirit Island is to figure out how to use your spirits' powers to push colonizers off your land. It's a complex game since each spirit plays quite differently and you have a pretty crazy puzzle to work through, but to me that just makes winning feel more rewarding. It also has a really cool theme that you won't find in any other board game.
Spirit Island is one of the best co-op board games around, and it works very well at all player counts. I just like it best as a two-player cooperative game because it hurts my brain just a little bit less trying to make two spirits work together rather than three or four.
Read our Spirit Island review
Get your copy of Spirit Island
---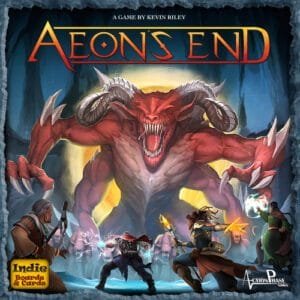 Deck building is one of my favorite board game mechanisms and Aeon's End is the best cooperative deck building game that I've ever played. It's number one on this list because I've played a dozen or so two-player games of it and all of those games were great experiences. The deck building is very satisfying and its spell-casting mechanism is just awesome.
Aeon's End is the game to get if you're looking for a two-player fantasy board game, a great deck building game, an awesome co-op card game for two, or you simply just want to get any great cooperative game that is known for working well with two players. It definitely checks all of those boxes. It's one of my group's top-rated board games and it has been my personal favorite two-player co-op for a while now.
If you're interested in this game, I'd start out with either the original Aeon's End or Aeon's End: War Eternal. If you end up loving the system, you can then get Aeon's End: Legacy (legacy version) or the excellent Aeon's End: The New Age (adds in a new campaign system).
Read our Aeon's End review
---

What are your favorite cooperative board games for two players? Any that weren't on the list?
Be sure to subscribe to our newsletter if you want more co-op board game content sent right to your inbox!
---