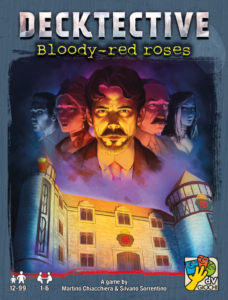 Year: 2019 | Players: 1-6 | Minutes: 60 | Ages: 12+
This Decktective: Bloody-Red Roses review was made after playing the game one time (three players). We were sent a copy of this game by the publisher in exchange for an honest review.

---
What is Decktective: Bloody-Red Roses?
Decktective: Bloody-Red Roses is a cooperative crime-solving game in which you work together to try to find key evidence for your case. The twist is that only you can see the clues in your hand. You have to decide which clue cards are relevant and shown to everyone, and which cards get discarded and never get revealed to your teammates.
Decktective: Bloody-Red Roses was designed by Martino Chiacchiera and Silvano Sorrentino, and it is published by dV Giochi. This is the same group that created the Deckscape series.
---
Decktective: Bloody-Red Roses Gameplay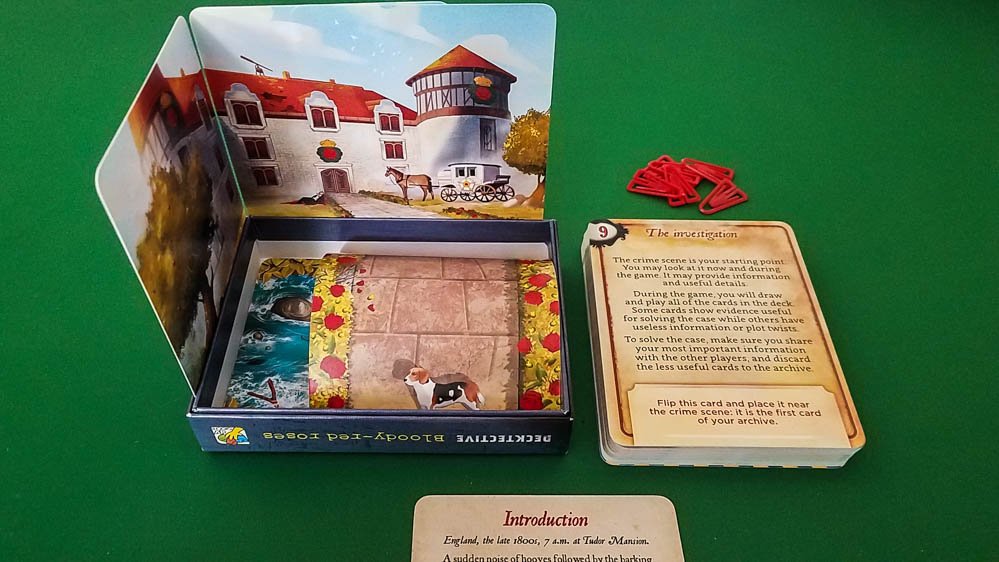 Your goal in Decktective: Bloody-Red Roses is to figure out what happened to Count Ferdinand Tudor, who was found dead in a bush of roses outside of his mansion. After you read the introduction to the case, you're shown how to set up the 3D crime scene and then you'll deal out a number of cards based on player count. And that's about it for setup.
You have two options on your turn: play a card on the table that you think is relevant to the case or archive/discard a card that you think is irrelevant or less useful. After that, you draw a new card.
Each card has a value between 1 and 10, which represents the number of cards that have to be in the archive in order to play the card. For example, if you have a card with a 6 showing, you can only play it if there are at least six cards in the archive. If you can't "afford" to play any of the cards in your hand, you'll be forced to archive one even if you think it's potentially relevant to the case.
You aren't allowed to talk about the cards in your hand, but you can read the titles. You also can't talk about the cards that you've put in the archive. Anyone can look at and talk about the cards that have already been played.
After all of the cards have been played or archived, you'll try to solve the case by answering some questions. At this point you can talk about any of the archived cards that you can remember. After you answer all of the questions, you'll get a score based on how well you answered.
---
---
Pros
Using some of the cards and the box to create the 3D crime scene was a clever idea. It both saves space on the table and allows you to "look around" the property. It's definitely more than just a gimmick. Plus, it looks pretty cool.
This game is very similar to The Sherlock Files, but the one big difference (besides the 3D crime scene) is the way the archive is used. Since everyone has to be able to "afford" the cards they want to play, it puts an extra bit of pressure on you to make good decisions so you can help everyone else play cards.
Just like with The Sherlock Files, my favorite moment in Decktective is right at the end when everyone tries to remember what they've discarded. It's the first time in the game all communication limits are lifted, allowing you to get everything you've been thinking about/trying to remember off of your chest.
This is probably cleanest detective board game design that I've seen so far. What I mean by that is there isn't much text to read and each card has at most one or two details you need to look at closely. That makes it play quicker and smoother than other similar games. That also makes it a good family board game option.
Since no one can talk about the cards in their hands, you won't run into any alpha player problems in this game.
---
Cons
The Bloody-Red Roses case was pretty easy for my group to solve. It's actually the first time I've ever gotten a perfect score while playing a detective or escape room game. We did play a three-player game, though, and I'm pretty sure it'd be more challenging with more players since each player would see fewer cards throughout the game and you'd be relying on more people to remember what they discarded.
One pretty big clue was hard to see because of the way the 3D crime scene was set up. That didn't prevent us from being able to solve the case, but it's pretty strange that the clue was hidden the way it was.
---
Final Thoughts
On the overall, I had a good time playing Decktective: Bloody-Red Roses. The 3D crime scene setup was a great idea for this type of game, it plays smoother than other detective games, and that archive/value system brings something new to the genre. This is the easiest crime-solving board game that I've played so far, but that didn't prevent anyone in my group from having a good time. In fact, we all felt a bit smarter afterward since we usually fail miserably when playing these types of games.
If you usually like crime-solving games and/or escape room games, chances are you'll have a fun time playing Decktective: Bloody-Red Roses. You'll probably have a better time with it if you play with more than three players, but it's certainly playable and enjoyable with fewer players.
At this point I like the Decktective system a little bit more than The Sherlock Files system, though they are very similar. I'm looking forward to playing more cases.
---
Decktective: Bloody-Red Roses Links
---
Thanks for taking the time to read our Decktective: Bloody-Red Roses review! To stay updated on all things cooperative board games, follow us on Twitter, Facebook, or via RSS.
---