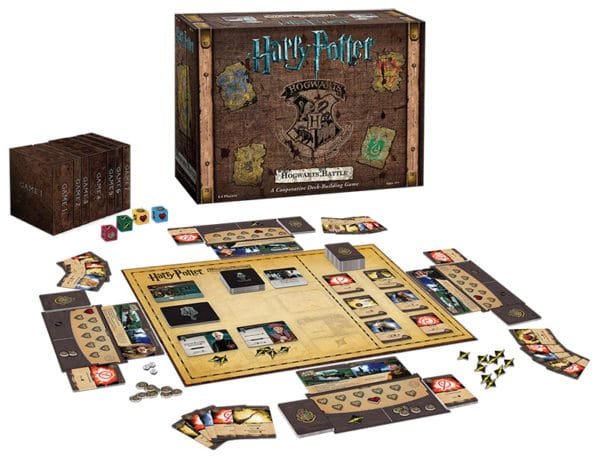 Release Date: September 2016, Number of Players: 1-4, Game Length: 30+ minutes
---
Description from USAopoly:
The forces of evil are threatening to overrun HOGWARTS™ castle in this new cooperative game! It's up to four students to ensure the safety of the school by defeating villains and consolidating their defenses. Players take on the role of a HOGWARTS student: Harry, Ron, Hermione or Neville, each with his or her own personal deck of cards. To secure the castle from the forces of evil the students must work together to build more powerful decks using iconic Wizarding World characters, spells, and items. Defeat all the villains including He-Who-Must-Not-Be-Named and win the game!
Well, I'm a fan of both Harry Potter and cooperative deck building games, so this is one that I will definitely be playing when it comes out. One thing that the books (and movies) did a great job of was making you really dislike the villains, so it'll probably be a very rewarding feeling when you take them down.
It looks like a story will play out as you go through each one of the "books," but it should have some replay value since your deck will always be a bit different. We'll see…
---
---
You will soon be able to preorder Harry Potter: Hogwarts Battle from Cool Stuff Inc., and it will hit the shelves this fall. Head on over to the official page for a bit more info (and pictures).
Don't forget to check back here in a few months to see our Harry Potter: Hogwarts Battle review! (As promised, here is our review)