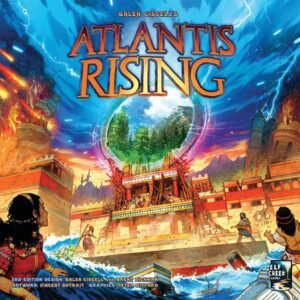 Release: Jan. 2020 | Players: 1-7 | Minutes: 60+
---
From Elf Creek Games:
Atlantis Rising is a co-operative worker placement game in which you must work together with up to five other players to deploy citizens across your homeland, gathering resources in order to build a cosmic gate that can save your people.  But with each passing turn more of the island is destroyed, threatening to jeopardize your mission of saving your homeland.
Update: I've posted my Atlantis Rising (2nd Edition) review!
I never had a chance to play the first edition of Atlantis Rising, but I will definitely be checking out this new version. The game has a great look to it and worker placement is one of my favorite mechanisms, so I have a pretty good feeling that I'm going to enjoy it. There really aren't that many cooperative worker placement games right now, and it seems like most of the ones that are out there are real-time games.
If you're interested in seeing how Atlantis Rising plays, I highly recommend watching this Jon Gets Games playthrough:
For more information about Atlantis Rising (2nd Edition), check out its Kickstarter page or its BGG page. You can also pre-order the game right now from Game Nerdz or from Miniature Market.
Remember to check back here soon to see our Atlantis Rising review! (Update: As promised, here's my Atlantis Rising (2nd Edition) review!)
---
To stay updated on all things cooperative board games, follow us on Twitter, Facebook, or via RSS.
---