Year: 2020 | Players: 1-4 | Minutes: 30+ | Ages: 13+
This The Kringle Caper review was made after playing the game one time. We were sent a copy of this game by the publisher in exchange for an honest review.

---
What is The Kringle Caper?
The Kringle Caper is an 18-card cooperative escape room-style game in which you are trying to solve a Christmas mystery. The game was designed by Jonathan Chaffer and is published by Grand Gamers Guild.
---
The Kringle Caper Gameplay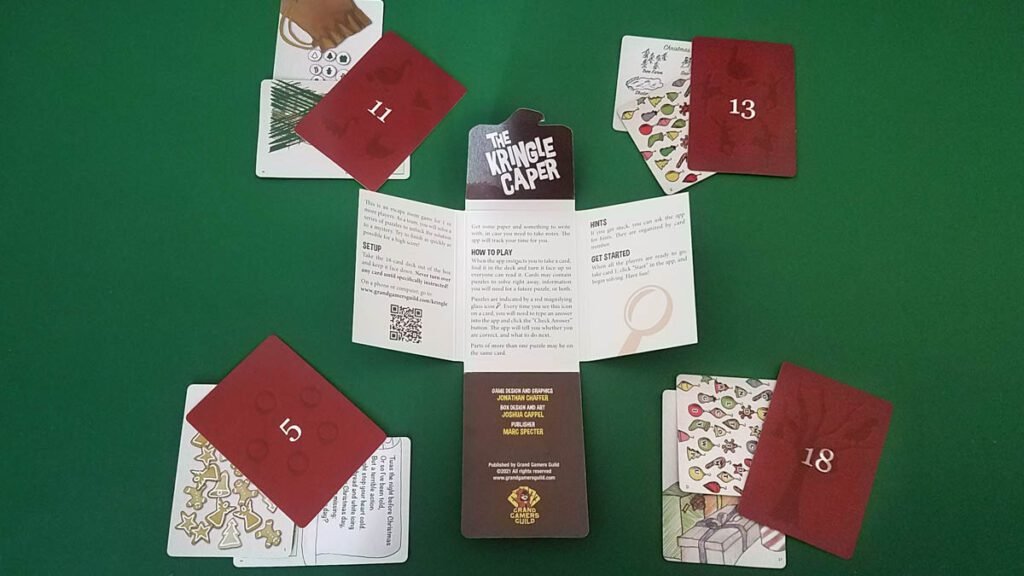 In The Kringle Caper, you are detectives at the North Pole who are tasked with solving a crime. You'll come across Santa, reindeer, elves, and others as you attempt to figure out who the criminal is. The crime itself is revealed in a puzzle, so I won't spoil that here.
The rules for The Kringle Caper are very straightforward. There are 18 cards in the deck and you'll be instructed when to reveal them as you move through the mystery. The cards have puzzles on them and/or are saved to help you solve future puzzles. You use the game's companion app to type in your answers to the puzzles and to get some hints if you need them.
After you're done playing through the game, you'll get a score based on how quickly you finished and how many hints you used.
---
---
Pros
There's a nice variety of puzzle types in The Kringle Caper. I actually went into the game thinking they'd be very basic, but it's pretty obvious that a lot of work went into creating most of these puzzles.
I think this is perfectly challenging for families and adult gaming groups. A couple of the puzzles are pretty easy, but most of them take some time to figure out. Some groups will get perfect scores, but I think most will need to get at least a couple of hints.
I like the hint system in the web app. It gives you just a little bit of help at first and you can choose to get more info if you want to, though that will lower your final score.
I played this with two other adults and it took us about an hour to finish. That's pretty impressive considering there are only 18 cards in that deck.
You don't have to alter/destroy any cards, allowing you to pass the game on to another group once you're finished. I definitely prefer this type of single-play game.
It's a Christmas-themed co-op! There really aren't too many of those out there right now.
---
Cons
I don't mind the art in the game, but since it's a Christmas game, I was expecting more of it. You run into a bunch of characters, but you never see any of them on the cards. That was a bit disappointing.
A couple of the puzzles require outside Christmas knowledge. I actually really liked those puzzles, but I think they will be a problem for people who don't remember or didn't learn those… things.
---
Final Thoughts
My group had a great time playing through The Kringle Caper. The puzzles were fun to work through, the story was nice and lighthearted, and it ended up feeling like a complete gaming experience despite it being just 18 cards and a box. We definitely did not get a perfect score, but we enjoyed trying to solve all of the puzzles.
If you like escape room-style games and you have a group that would enjoy playing a Christmas-themed game, chances are you'll end up being fans of The Kringle Caper.
---
The Kringle Caper Links
---
Thanks for taking the time to read our The Kringle Caper review! To stay updated on all things cooperative board games, follow us on Twitter, Facebook, or via RSS.
---