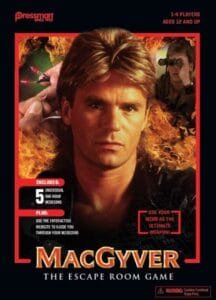 Year: 2018 | Players: 1-4 | Minutes: 60 | Ages: 12+
This MacGyver: The Escape Room Game review was made after playing through the five missions in the box. We were sent a copy of this game by the publisher in exchange for an honest review.

---
What is MacGyver: The Escape Room Game?
MacGyver: The Escape Room Game is a cooperative escape room game in which you're attempting to help MacGyver get out of a bunch of sticky situations. The game was designed by Rebecca Bleau and Nicholas Cravotta, and it is published by Pressman Toy Corporation.
---
MacGyver: The Escape Room Game Gameplay
To begin a MacGyver: The Escape Room Game mission, you'll grab the envelope for that mission and also go to that mission's page on the game's website. You can play the missions on Easy (not timed), Medium (75 minutes), or Hard (45 minutes) difficulty.
Inside of each mission envelope will be puzzles and possibly other items. The website will list the exact items you'll need for each mission, which could include items that you found during previous missions.
You'll be solving one puzzle at a time. In most cases you'll attempt to solve the puzzles in front of you and then type your answers into the website. The website also has hints and solutions that you can look at if you need help.
And that really is all you need to know going into your first game.
---
---
Pros
There are a lot of different types of puzzles to try to solve. I'd seen some of them in other escape room games, but there were also quite a few that I hadn't.
There are more unique surprises than you'll find in most other escape room games. Seeing the first couple of surprises made opening up other envelopes that much more exciting.
None of the puzzles are very tough, which I actually see as a good thing. They're all in the easy to medium range, making it a solid family game and also a good weight for MacGyver fans who have never played an escape room game before.
Most of the missions only take about 45 minutes to complete. That's great regardless of whether you want to play a quick mission or if you want to play all five missions in one sitting.
I believe each mission is based on an episode of MacGyver, which is pretty cool, especially for fans of the show.
---
Cons
There were a couple of puzzles that didn't have much in the way of introductions. We looked at hints just so we could figure out what we were supposed to be doing.
At least one puzzle doesn't have the solution on the website, which is strange to me. If a group isn't able to solve that puzzle, there's really nothing they can do.
The website also didn't load a couple of times for us, which forced us to go back to the beginning of the mission and re-type the solutions for puzzles we'd already completed. The website definitely needs an update.
This is a destructible game. You can't pass it on to another group after you're done playing, which I know will bug a lot of people.
---
Final Thoughts
I did have a good time playing MacGyver: The Escape Room Game, but it definitely had more issues than most of the other escape room board games that I've played.  A couple of this game's puzzles are actually some of the best ones that I've experienced while playing these types of games, but the website almost ruined the experience during a couple of the missions.
I'd recommend other escape room games, such as the Unlock series, the Exit series, or Escape Tales: The Awakening, over this one. However, if you like the MacGyver theme, chances are you'll enjoy this set of thematic puzzles and the fact that you get about 4 hours worth of content.
---
MacGyver: The Escape Room Game Links
---
Thanks for taking the time to read our MacGyver: The Escape Room Game review!
Be sure to also take a look at our Best Co-op Board Games and Card Games list and other rankings.
To stay updated on all things cooperative board games and card games, follow us on Facebook and X.
---