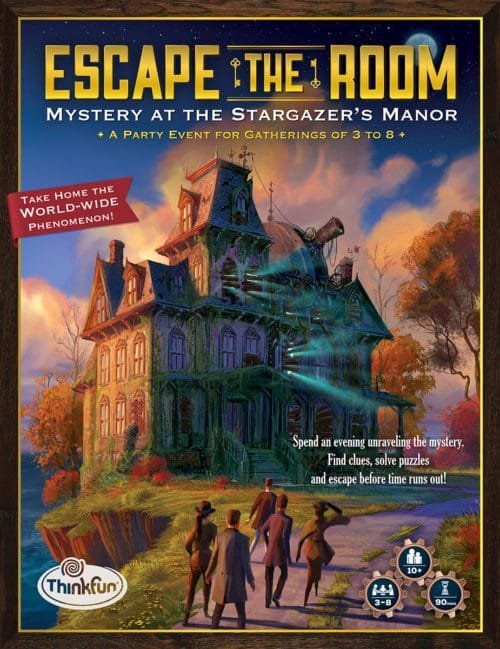 Year: 2016 | Players: 3-8 | Minutes: 90 | Ages: 10+
This Escape the Room: Mystery at the Stargazer's Manor review will not contain any spoilers.

---
What is Escape the Room: Mystery at the Stargazer's Manor?
Escape the Room: Mystery at the Stargazer's Manor is a cooperative mystery game set in the late 1800s in which you are attempting to find out what happened to a famous astronomer. You and your teammates will be in his house attempting to solve puzzles and pick up clues in order to save the astronomer.
Escape the Room was designed by Rebecca Bleau and Nicholas Cravotta and published by ThinkFun.
---
Mystery at the Stargazer's Manor Gameplay
Without spoiling anything, we're simply going to tell you how the game works rather than giving away any details about the game. It should be enough info so you can decide if this Escape the Room game is the type of game you'd enjoy.
In Mystery at the Stargazer's Manor, you will have a number of puzzles that you will need to solve as you move around. The puzzles and clues will be in different envelopes that you will open when the game tells you to.
The Solution Wheel is what will tell you if you solved the puzzles or not. You'll be attempting to match up specific icons on the wheel in order to move forward in the story.
If you're able to solve all of the puzzles and escape the room, everyone wins!
---
---
Pros
The best thing about this game to us is that it does a pretty good job recreating the digital games and the real-life escape rooms in board game form. If your group is the type that can easily get into the theme of board games, you should have a blast playing Mystery at the Stargazer's Manor.
While you aren't going to find this particular Escape the Room game on our top family board games list, you can tell that it was made to be a game for families to enjoy. The puzzles in the box are interesting to people of all ages and it mixes in a theme that most people will like.
---
Cons
If you or anyone else in your gaming group is really good at puzzles, this Escape the Room might be a bit too easy for you. You can play with a group of adults, but it would be a good idea to allow everyone to have an equal say to make it a more enjoyable and challenging experience.
You should also be aware that you will only be able to play this game once, so you are basically only getting about two hours (even as little as 45 minutes) out of it. Unless you know that you are going to like this type of game, we recommend buying it when it's on sale.
---
Final Thoughts
Considering we had never played any other escape room games before, we were actually very impressed by Escape the Room: Mystery at the Stargazer's Manor. Yes, it is a bit too easy at times, but we still had a blast playing it. Again, it's not one of our favorite family board games, but it was definitely a unique experience that most of us enjoyed.
---
Mystery at the Stargazer's Manor Links
---
Thanks for taking the time to read our Mystery at the Stargazer's Manor review! To stay updated on all things cooperative board games, follow us on Twitter, Facebook, or via RSS.
---