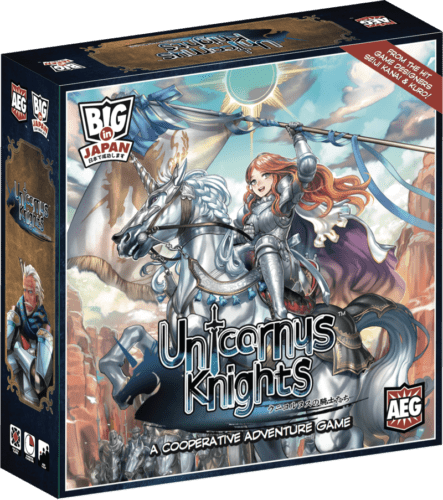 Release Date: August 2017, Number of Players: 2-6, Game Length: 60+ minutes
---
From CSI:
Unicornus Knights is a cooperative game. The object of the players is to assist the princess as much as possible. They will gather soldiers and resources, defeat the enemy generals in the lands, pave the way for the princess, and finally have her enter the capitol and confront the Emperor himself!
Two insanely talented Japanese designers teamed up to make this game. Seiji Kanai designed Love Letter, which is one of the best mini-box games that you can buy. The other designer, Kuro, made one of the most unique co-op games we've played recently in The Ravens of Thri Sahashri.
It looks like Unicornus Knights will be simple to understand, but it's probably going to be quite a challenge. Plus, the randomized setup of the map tiles should give it plenty of replay value.
The artwork that I've seen looks great (we haven't played too many games with the anime-style artwork), and I kind of like the idea of everyone moving around the board protecting and fighting with the princess rather than just trying to save her. Seems like it's going to be a very cool game.
Here's a preview image of the map tiles found in the game:
For a bit more info on Unicornus Knights, check out the official page at AEG's website.
Don't forget to come back in a few months to see our Unicornus Knights review!