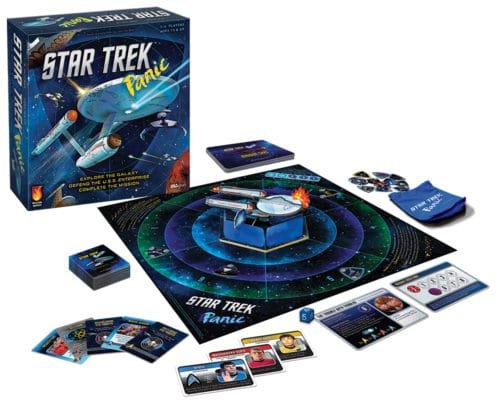 Release Date: June 2016, Number of Players: 1-6, Game Length: 90+ minutes
---
Description from USAopoly:
Space IS the final frontier! As part of the original crew of the U.S.S. Enterprise, your Five-Year Mission is to explore strange new worlds, encounter alien civilizations, and defend the ship. In Star Trek Panic, players work together to carry out missions while keeping the U.S.S. Enterprise safe from enemy attacks. Complete five missions with the U.S.S. Enterprise intact and win the game! Star Trek Panic is a cooperative, light, strategy tower defense game based on the popular Castle Panic game.
We think that Castle Panic is one of the better family co-op games out there, so we're definitely looking forward to playing this one! To be honest, this game probably would have been pretty good even if they just slapped the Star Trek theme onto Castle Panic, but it looks like it's going to be much more than that!
Dead Panic and Munchkin Panic have both done pretty well, so it won't be surprising if Star Trek Panic sells tons of copies, too. This will obviously be a hit with people who enjoyed the original game and also happen to be Star Trek fans.
You can preorder Star Trek Panic at Cool Stuff Inc., and it will be available to the public soon. Don't forget to come back to see our Star Trek Panic review! (As promised, here is our Star Trek Panic review.)
Here is a preview of the game from BoardGameGeek: