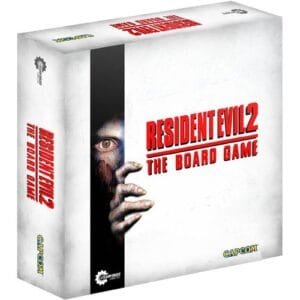 Release Date: January 2019 | Number of Players: 1-4 | Game Length: 90-120 minutes
---
From BGG:
Resident Evil 2 is a cooperative board game where you play as the characters and scenarios from the hit video game from Capcom. Fight iconic monsters such as the Licker and use characters like Leon, Claire, or Tofu. Travel from the police station to the underground Umbrella Laboratory while you uncover the secrets and escape from Raccoon City!
Considering how popular the video game is, I'm not surprised that the Resident Evil 2 Kickstarter campaign did extremely well last year. Over 7,500 people backed the game and helped Steamforged Games exceed their goal by quite a bit. Resident Evil has a large fan base and dungeon crawls are still very popular, so I think a lot of people will be interested in this one.
I don't think there are any reviews out there yet, but TheBeastsOfWar did post a gameplay video last year:
For a bit more info on Resident Evil 2, take a look at its Kickstarter page or its BGG page. You can also pre-order the game over at Miniature Market.
Remember to check back soon to see our Resident Evil 2: The Board Game review!
---
To stay updated on all things cooperative board games, follow us on Twitter, Facebook, or via RSS.
---