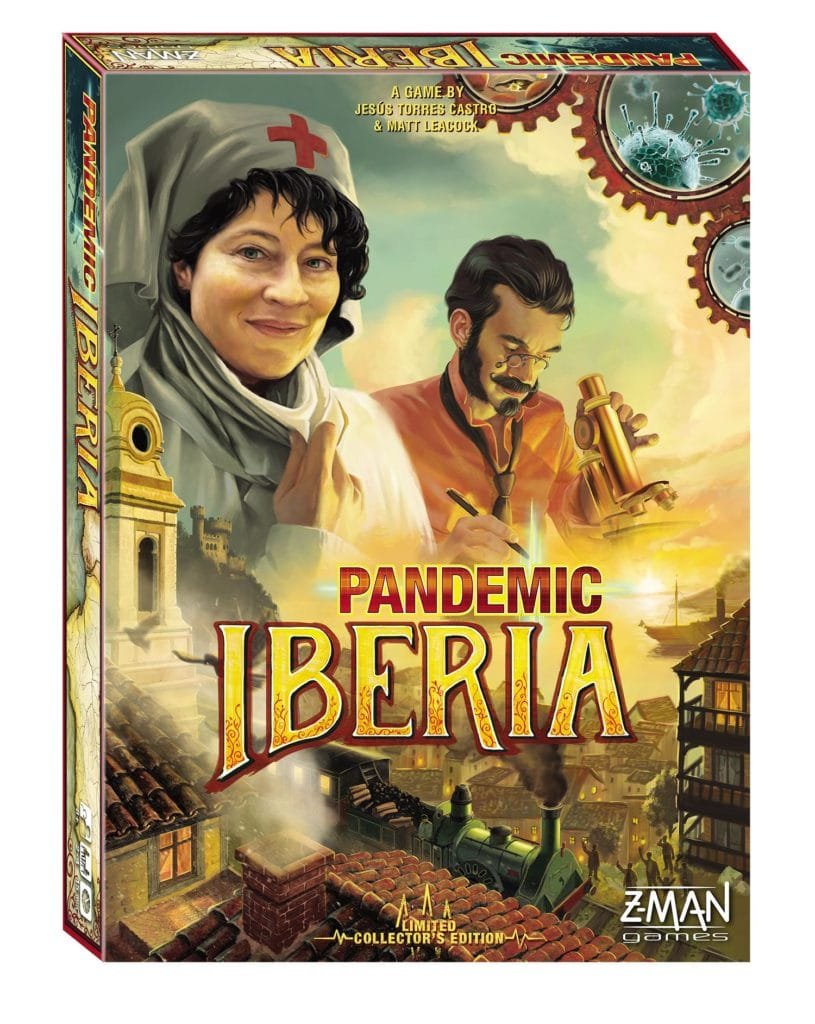 Number of Players: 2-5, Game Length: 45+ minutes, Ages: 10+
Pandemic Iberia Release Date: September 2016
From CoolStuffInc:
In Pandemic Iberia, the year is 1848, and diseases are spreading fast under the burning sun of the Iberian Peninsula. Take on the roles of a nurse, a railway man, and a rural doctor, among many others, and work as a team to push back the new threats that are malaria, typhus, cholera, and the yellow fever.

From Barcelona to Lisboa, travel by carriage, by boat, or by train, and help the Iberian populace by developing railways and distributing purified water in this new version of Pandemic.

Discover a unique part of the world during the historically significant time period that is the construction of the first railroad in the Iberian Peninsula called the Spring of Nations.
If you've read our Pandemic review, then you won't be surprised to hear that we are very excited about this game! It will be interesting to see how each of these new characters play and how difficult it is to wipe out the new/old diseases.
Matt Leacock, the creator of the Pandemic series, teamed up with Jesús Torres Castro (Watson & Holmes: From the Diaries of 221B) on Pandemic Iberia. The news broke that this game was coming not long after they announced Pandemic: Reign of Cthulhu. The more Pandemic, the better!
It's important to point out that, like Reign of Cthulhu, this is not a Pandemic expansion. It is a standalone game, so you don't have to own the original Pandemic to be able to play this one.
You can preorder Pandemic Iberia at CoolStuffInc, and it will be available this fall.
Don't forget to come back in a few months to read our Pandemic Iberia review!
Here's a teaser from Z-Man Games: