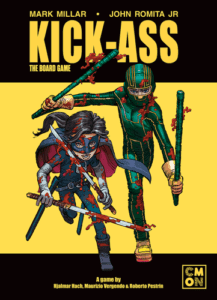 Release Date: August 2018 | Number of Players: 1-4 | Game Length: 60-90 minutes
---
From CMON:
Players will be able to assume the roles of characters from the comic book series by Mark Millar and John Romita Jr. like Kick Ass, Hit Girl, and Big Daddy. They'll battle to save New York City from a supervillain's plot, while balancing the tricky business of their messy personal lives.

Featuring brand new art inspired by its comic book origins, engaging game play, and highly detailed miniatures representing the characters from the stories, Kick Ass: The Board Game will inspire players to put on the mask and fight to save the city.
What everyone seems to like about the Kick-Ass comic book series and movies is that they have a nice 50/50 mix of comedy and action. It's really tough to put that type of mix into a board game, though, which is why most board game designers don't attempt to do it. If this game really does end up having that Kick-Ass feel to it, it could be a pretty big hit.
Here is a video preview of Kick-Ass: The Board Game from Roy Cannaday of The Dice Tower:
---
---
For a bit more info on Kick-Ass: The Board Game, check out its BGG page. You can also pre-order a copy right now from Miniature Market. And don't forget to check back here in a few months to see our Kick-Ass: The Board Game review!
---
To stay updated on all things cooperative board games, follow us on Twitter, Facebook, or via RSS.
---