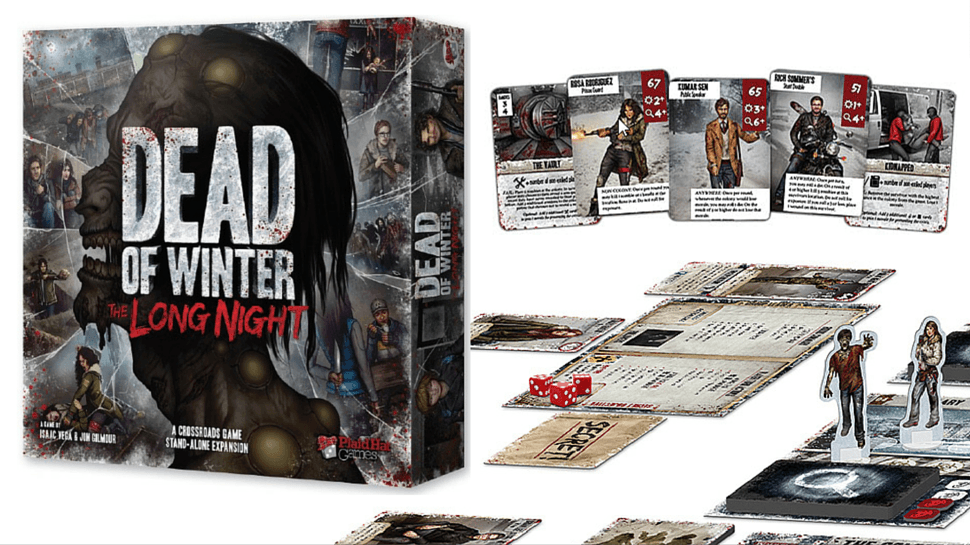 Number of Players: 2-5, Game Length: 90+ minutes, Ages: 13+
Dead of Winter: The Long Night Release Date: June 2016
---
From Plaid Hat Games:
Obtain more of everything that made Dead of Winter an epic struggle for power and survival! Experience a new colony full of new survivors and new gameplay elements, each of which is introduced to players through its own game scenario.

Fight off bandits from another colony!
Build improvements to make the colony cozier!
Unravel the mysteries of the new Raxxon Pharmaceutical location! It is full of powerful items, but also full of Raxxon's twisted human experiments that show up in the game as disturbing new enemies.
Play 2 special story scenarios that guide you through the new expansion modules.
All new characters! All new crossroad card deck! All new main objectives! All new secret objectives! Tons of new items!
If you've read our Dead of Winter review, then you'll know that we are huge fans of this series. Possibly the coolest thing about Dead of Winter: The Long Night (besides everything mentioned above) is that this is much more than just a Dead of Winter expansion; it can also be played as a standalone game! While we will definitely be using it alongside the Dead of Winter base game, it is great to know that there is so much in the box that it could be used on its own.
You can preorder Dead of Winter: The Long Night at Cool Stuff Inc., and it will be available to the public this summer. For a bit more info on the game, check out the official page.
Remember to check back here in a few months to see our Dead of Winter: The Long Night review!