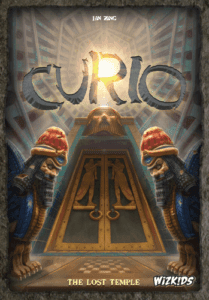 Release Date: May 2018 | Number of Players: 2-5 | Game Length: 10-15 minutes
---
From WizKids:
Players take the role of the archaeological team as they try to escape the Lost Temple. In this real-time cooperative game, players will need to communicate and collaborate to solve an unending slew of puzzles.

Unlike other games in this genre, Curio: The Lost Temple is endlessly replayable, even by the same players. Using a unique module-based system, players manipulate, sort, rotate, and search puzzle components to arrive at a distinct answer.
I'm really surprised Curio: The Lost Temple hasn't been promoted a bit more. Escape room games are huge right now, so chances are a lot of people will be interested in this one.
What I'm most excited about is the fact that Curio: The Lost Temple is replayable, which is pretty much unheard of in escape room board games. We'll have to see if the game is actually good or not, but if it is it will be nice to have one box with a bunch of short escape rooms inside of it.
For a bit more info on Curio: The Lost Temple, check out its WizKids page or you can take a look at the rulebook over at BGG. You can also pre-order Curio: The Lost Temple at CoolStuffInc.
Remember to check back soon to see our Curio: The Lost Temple review!
---
To stay updated on all things cooperative board games, follow us on Twitter, Facebook, or via RSS.