Year: 2019 | Players: 1-4 | Minutes: 360+ | Ages: 16+
This Escape Tales: Low Memory review was made after playing through the three stories in the box. We were sent a copy of this game by the publisher in exchange for an honest review.

---
What is Escape Tales: Low Memory?
Escape Tales: Low Memory is a cooperative, story-driven, escape room game. It was designed by Jakub Caban and Bartosz Idzikowski, and it's published by Board&Dice. This is the second game in the Escape Tales series after The Awakening.
---
Escape Tales: Low Memory Gameplay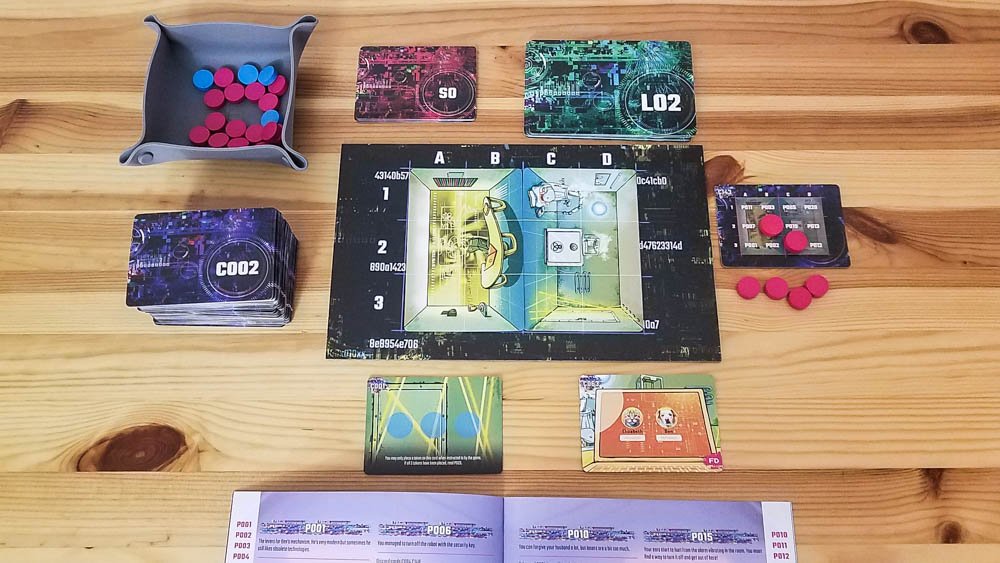 I'm not going to go into spoiler territory, but I can say that Escape Tales: Low Memory takes place in 2060 and that you begin the game as Elizabeth, a researcher who is having a hard time remembering anything from the past 24 hours.
Escape Tales: Low Memory uses basically all of the same mechanics found in Escape Tales: The Awakening. The one big difference here is that you play through three separate-but-connected stories.
After reading the introduction to the story you're playing, the general flow of the game is:
Pick an area to explore at your location by using an action token.
Find the number of that area in the story book and read the paragraph.
Draw the card(s) that the paragraph tells you to draw.
Solve a puzzle if you have the cards you need for it (the app tells you how many cards you need).
Any time you run out of action tokens and you need to use one, you draw and read a Stress card, which will sometimes force you to lose important Story cards. Story cards are the only cards that you keep between games as they can change how the stories play out.
Just like in The Awakening, you can't "lose" a game of Low Memory, but the choices you make will influence the endings you'll get for the three stories.
---
---
Pros
Most of the puzzles in Escape Tales: Low Memory are unique, tough, and really fun to try to figure out. I was a big fan of the puzzles in The Awakening, too, but on the overall I think these were better.
The designers once again did a great job of making it feel like every decision matters. Knowing that most of the choices you make change how the story plays out forces you to pause and discuss your options. That gives the game an extra layer of cooperation.
I still really like how these story books are designed. Most of the paragraphs are very short, allowing you to jump right back into the puzzles. I also like that all of the paragraph numbers are in the margins, making it very easy to find the ones you're looking for.
The app/website worked perfectly for us. The hint system is great and I really like that it remembers what you've done in past sessions by highlighting any puzzles you've already completed.
I have to give the designers credit for creating three connected stories this time around rather than just one (very) long one. It lets you easily break the game into three sessions without worrying about forgetting important info. We played it over three days and we didn't have any problems jumping right back into it.
Most of the art on the location cards looks great. It's a cool futuristic style and the colors really pop.
The tutorial is well done. It's quick yet it does the job of teaching you how everything works.
---
Cons
Escape Tales: Low Memory's story never pulled me in like the one in The Awakening did. It was unique and interesting, for sure, but I never found myself caring too much about any of the characters. I did want to see how our version of the story played out, but it never had me on the edge of my seat.
The ending that we got wasn't very satisfying. All I'll say is that one character's story ended one way and then that same character's story changed when we made a decision later on. I read the other possible endings after we were done and a couple of them would have made a lot more sense for our specific story.
Exploring locations often felt like a guessing game. In The Awakening you'd almost always clearly see where you wanted to explore because you saw things that you thought might be important. In Low Memory it was usually more about just choosing an area to explore and hoping that it was important.
There are quite a few typos in the story books and in the app. Nothing that ruined the game for us, though.
---
Final Thoughts
To sum up, I think Escape Tales: Low Memory has some excellent puzzles and the app works perfectly, but I think its story is just okay. In my opinion, The Awakening has a much better story while Low Memory has the better puzzles.
If you love escape room games and don't mind challenging puzzles, I recommend giving Escape Tales: Low Memory a play. The truth is that you could also end up enjoying the story; plus, chances are it will play out differently than ours did since you'll choose different paths. I think it's probably best as a two-player game because you only work on one puzzle at a time, but it could also work with three or four since the puzzles are so tough.
I'm still a huge fan of this system and I'll definitely be checking out anything else that the designers make for it.
---
Escape Tales: Low Memory Links
---
Thanks for taking the time to read our Escape Tales: Low Memory review!
Be sure to also take a look at our Best Cooperative Board Games list and other rankings.
To stay updated on all things co-op board games and card games, follow us on Facebook and X.
---