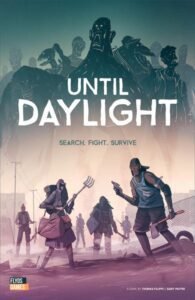 Release: July 2019 | Players: 3-6 | Minutes: 60-180
---
From BGG:
Until Daylight is a co-operative survival card game. Your goal: Survive ten waves of enemies and save at least one survivor.

During the game, you can find and exchange objects, weapons, and ammunition with other characters and build traps or barricades to protect yourself and ensure your survival as a group. Your reflexes, your sense of strategy, and your ability to survive will be tested. Every character you may embody is unique and has its advantage and drawback that will enhance the game with strong and intense moments. "Search, fight, survive" will quickly become your motto.
One thing that seems really interesting about Until Daylight is the real-time element. I like the idea of having a short amount of time to search for items before taking on the horde of zombies. That works thematically and it seems like it's something that will put a nice amount of pressure on the players.
It's also interesting that this is a fully cooperative game yet you can steal cards from other players to make your character more powerful. I want to see if that really works and how it impacts the whole "us vs. the zombies" feel of the game.
For more info on Until Daylight, check out the rulebook on BGG. You can also pre-order Until Daylight at Miniature Market and Game Nerdz.
Remember to check back here soon to see our Until Daylight review!
---
To stay updated on all things cooperative board games, follow us on Twitter, Facebook, or via RSS.
---