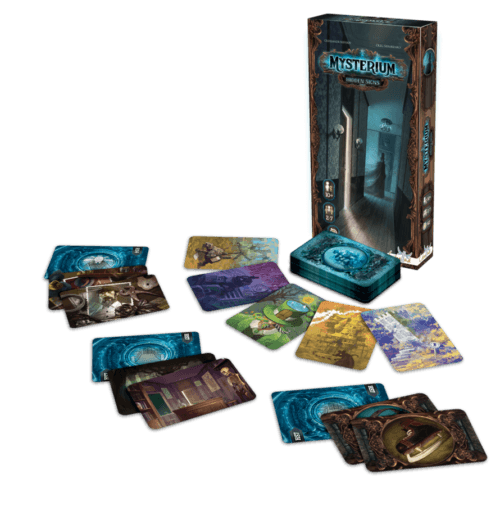 Release Date: June 2016, Number of Players: 2-7, Game Length: 45 minutes
---
From Asmodee:
New information has come to light in the case of of the murder at Warwick's Manor. Hidden Signs, Mysterium's first card expansion, adds even more mystery and challenge to the investigation with 84 brand new cards. Suspects have been unveiled, locations revealed and new objects discovered, and the ghost has even more visions for the psychics to interpret. The combinations are endless, but the pressure remains to solve the case quickly so the ghost may rest in peace. Use your intuition again to decipher new clues and find the truth in Mysterium: Hidden Signs.
Mysterium is not only a solid cooperative board game, it also happens to have some of the best artwork out there. This is why we are very excited about Mysterium: Hidden Signs! With over 80 more cards being added with this expansion, the base game should have a ton more replay value. As was said in our Mysterium review, this game is worth checking out for the artwork alone.
If you already own the base game, you can preorder Mysterium: Hidden Signs at Cool Stuff Inc. If you want to read a little bit more about this expansion, check out the official page.
Be sure to come back in a month or so to see our Mysterium: Hidden Signs review!