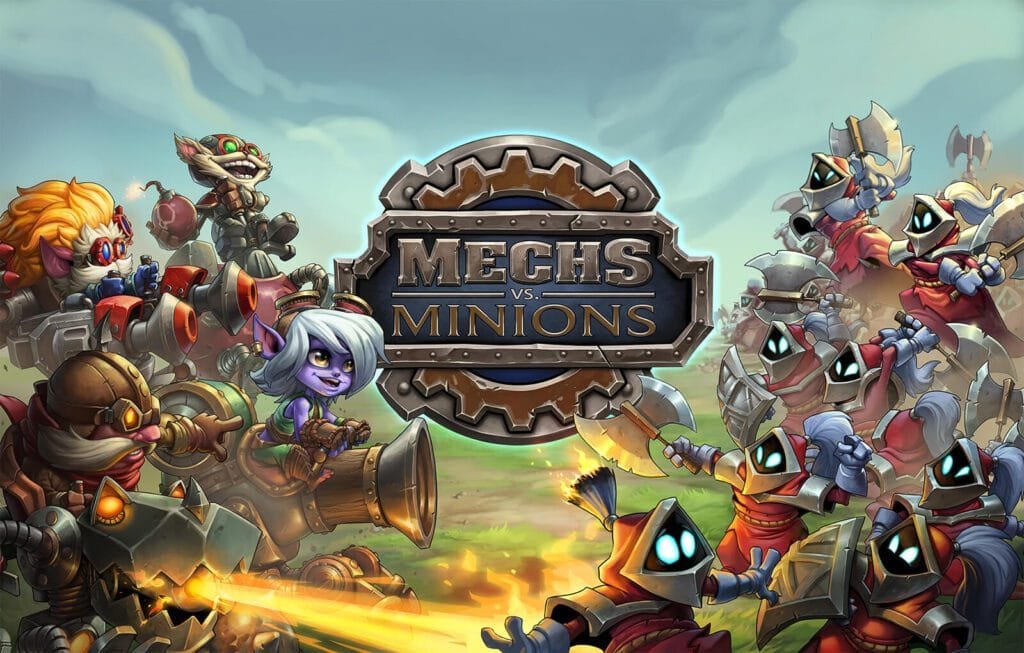 Release Date: October 13, 2016  Number of Players: 2-4  Game Length: 60+ minutes
---
From BoardGameGeek:
Mechs vs. Minions is a cooperative tabletop campaign for 2-4 players. Set in the world of Runeterra, players take on the roles of four intrepid Yordles: Corki, Tristana, Heimerdinger, and Ziggs, who must join forces and pilot their newly-crafted mechs against an army of marauding minions. With modular boards, programmatic command lines, and a story-driven campaign, each mission will be unique, putting your teamwork, programming, and piloting skills to the test.

There are ten missions in total, and each individual mission will take about 60-90 minutes. The box includes five game boards, four command lines (one for each player), four painted mech miniatures, ability and damage decks, a sand timer, a bomb-like-power source miniature, 6 metal trackers, 4 acrylic shards, 4 dice, and 100 minion miniatures. There also appears to be some large object trying to get out of that sealed box…
There are so many reasons why I'm looking forward to playing this game! First off, there really aren't that many cooperative games out there with a programming mechanism, and it looks like the programming in Mechs vs. Minions is both simple and fun to do. Also, I usually don't find miniatures to be necessary in board games, but the ones in this game, along with the boards and cards, look fantastic. Oh, and it has a campaign!
All in all, Mechs vs. Minions looks like a game that even non-League of Legends fans will enjoy. I'm pretty sure I'm one of only two people in my group who has played the PC game, and just about everyone is looking forward to playing this based on the early pics and reviews.
You can download the Mechs vs. Minions official rulebook or head on over to this League of Legends page to see some preview videos of the game. They should have a link there shortly that will allow you to purchase the game directly from Riot Games.
Remember to check back here soon to see our Mechs vs. Minions review! (edit: As promised, here's our Mechs vs. Minions review!)