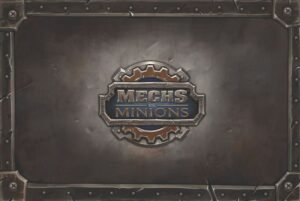 Year: 2016 | Players: 2-4 | Minutes: 60+ | Ages: 14+
This Mechs vs. Minions review was made after playing through the first six missions.
---
What is Mechs vs. Minions?
Mechs vs. Minions is a cooperative programming game in which you and your teammates are mechs trying to hold off a horde of minions. The game is set in the League of Legends universe, but it is not a board game version of the video game.
Mechs vs. Minions was created by a team of designers and is published by Riot Games.
---
Mechs vs. Minions Rules Overview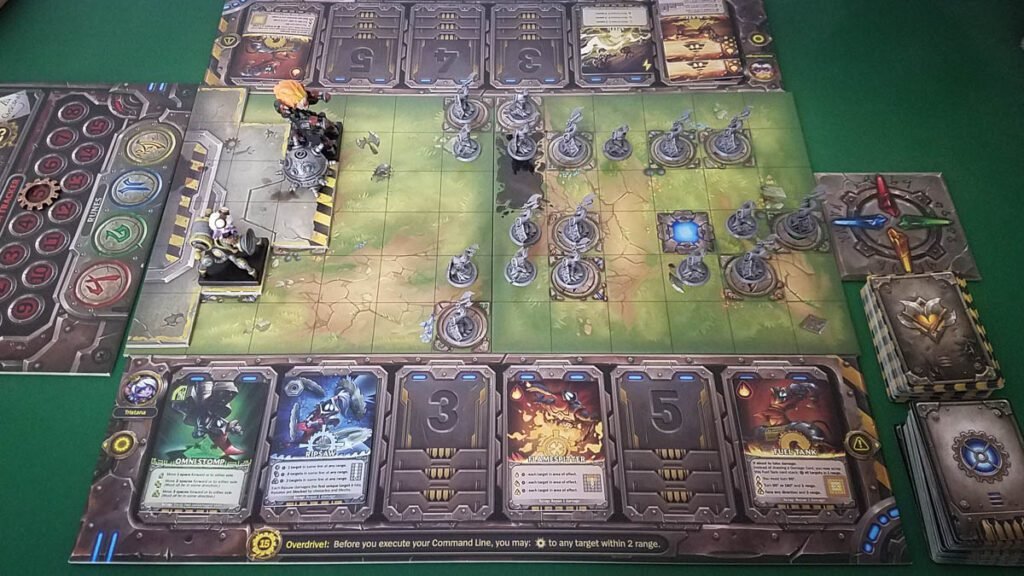 There are 10 missions in Mechs vs. Minions, but here I am just going to go over the basic rules. Just know that more rules are introduced as you move through the campaign.
You might look at the glorious contents in the box and think that this is a very complicated game, but it's really not. You're simply programming in what you want your mech to do each turn and then executing those actions.
Each turn, you and your teammates will be drafting cards and putting each one onto one of the six spaces on your "command line" board. Depending on the number of players, you'll usually get one or two cards per round. The cards will let you do a bunch of things, including moving, rotating, and shooting at the minions around you. What's really cool is that you can stack cards with matching symbols (up to three cards per stack) to upgrade your powers.
After all of the mechs have activated, the minions take their turns. The mission book will tell you where new minions will spawn and how they'll move across the board. The minions have different goals every turn; for example, in some missions they are simply trying to reach a location on the board before you're able to complete your objective.
When minions deal damage to mechs, players have to draw from a damage deck. These cards can have one-time effects or they can stay on your command line until you remove them.
Believe it or not, that's all you need to know going into your first game. It's really all about finding a way to program your mechs so you can move around the board, take out some minions, and complete the objective.
If you want to learn more about the game, take a look at the official Mechs vs. Minions rulebook (zip file).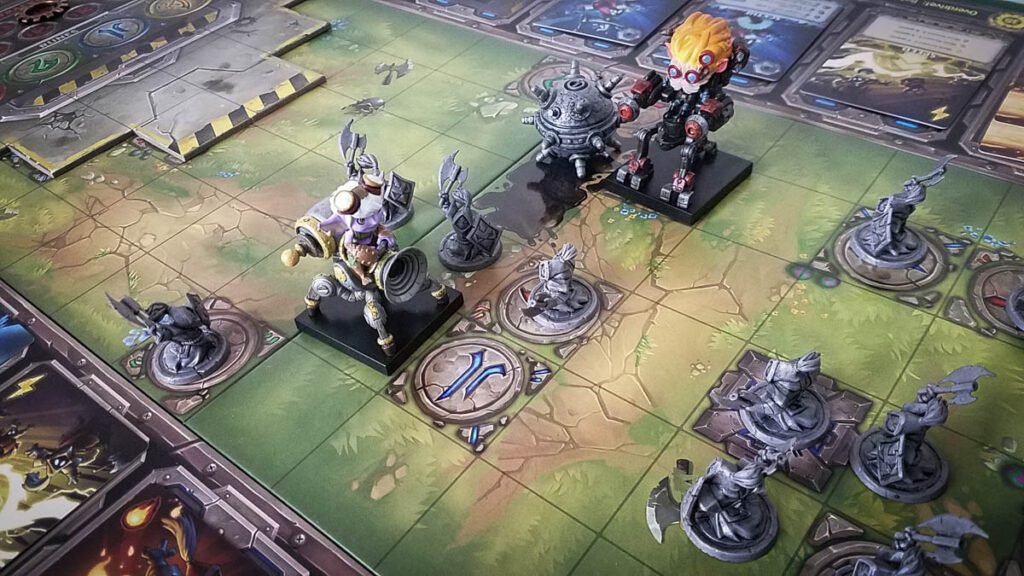 ---
---
Mechs vs. Minions – Pros and Cons
Pros
Mechs vs. Minions is one of the most beautiful games that you will find. The rulebooks, the boards, the miniatures, and even the dice look fantastic. I'm pretty sure this is the best-looking cooperative game I've ever played.
Drafting cards is both challenging and very satisfying. You want everyone to get what they need, but often you need to decide which player needs the card(s) more. Once you get to the third round, you feel a lot more powerful and you can start to pull off some cool moves to stop the minions.
It's really great that you can stack cards when programming. It allows you to adjust your program as the mission progresses and you'll never feel stuck with a card like you do when playing a lot of other programming games.
I like that you're pretty much always working on two things: the mission itself and making sure you program your mech correctly. It is definitely a unique and fun puzzle to try to solve.
It's also impressive how easy it is to learn how to play this game. The tutorial mission is great because it quickly teaches you how to use the cards and the main rules for dealing damage. Once you get through that tutorial, the missions are extremely easy to learn.
It is genuinely exciting opening up the new mission packets as you move through the campaign. I'm not going to spoil anything, but you do find some cool stuff in those envelopes.
Mechs vs. Minions has one of the best board game inserts ever made. Everything is protected inside the box and there are labeled spots for most of the components. Everything fits perfectly, making the jobs of setting the game up and tearing it down a million times easier.
Cons
You can get unlucky with the card draws. Sometimes you don't get the cards you want or need and have to find a way to limit the damage until you do get cards that will help you out. We've had multiple rounds where all of our card options during the draft were nearly identical and we didn't get to add much to our mechs… and that messed up our programs a couple of times, too. I don't mind the added challenge, but that can zap away some of the fun of programming a cool mech.
Mechs vs. Minions doesn't have much replayability. The boards aren't set up randomly, so you can go into each mission with a predetermined strategy after your first playthrough. Still, you will get some different cards to work with every game, so that will change things up a bit.
---
Mechs vs. Minions – Final Thoughts
Simply put, Mechs vs. Minions is a fantastic gaming experience and one of the best cooperative board games I've ever played. Everything looks great on the table and the guys over at Riot Games found a way to make a different type of programming that works extremely well as a co-op game. This is already my favorite programming board game and I'm looking forward to finishing the last couple of missions. (Update: Finished the campaign… Amazing!)
You definitely don't have to be a fan of League of Legends to enjoy this one. If you've enjoyed playing programming games in the past or you're just open to trying any type of cool co-op, I definitely recommend getting Mechs vs. Minions.
---
Mechs vs. Minions Links
---
Thanks for taking the time to read our Mechs vs. Minions review!
Subscribe to our newsletter if you want more co-op board game content sent right to your inbox!
---