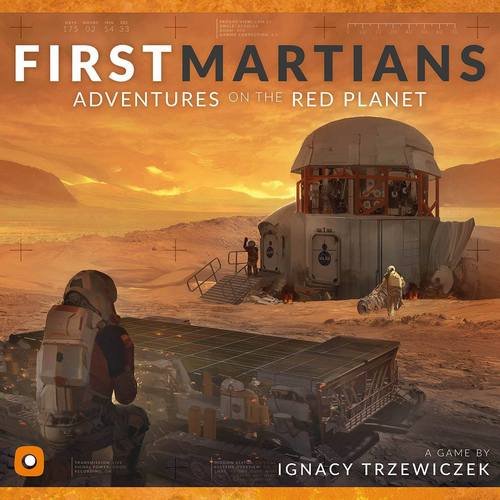 Release Date: August 2017, Number of Players: 1-4, Game Length: 60+ minutes
---
From BGG:
Built on the core of the award-winning Robinson Crusoe: Adventures on the Cursed Island, First Martians: Adventures on the Red Planet pits players against the hostile Martian environment and a whole host of new adventures and challenges. The immersion experience is further enhanced with an integrated app that maintains the balance and challenge throughout. Players have the option of taking on the design as a series of separate games, in a custom campaign mode in which each successive game builds on the last, or even an open world mode in which they are free to roam about the Martian surface and explore for as long as they can survive.
If you've seen our Top 20 Co-op Games list, then you know that we really like Robinson Crusoe, so we're obviously going to be excited about playing a game that uses a similar system. Board games with apps are hit or miss with us, but we're assuming that it's going to work well here.
We're not alone in being excited about this one. Back in February, BoardGame Stories reported that 2,500 copies of First Martians had already been preordered.
I'm personally looking forward to playing this one because Ignacy Trzewiczek (Robinson Crusoe, Imperial Settlers) is one of my favorite designers. I've actually been a big fan of all of his games so far, so this is right there at the top of my list of games I desperately want to play this year.
Trzewiczek mentioned over at BGG that the game will be released at Gen Con in August and folks who preordered will get it in May or June. You can currently preorder First Martians: Adventures on the Red Planet at CSI.
For a bit more info on First Martians: Adventures on the Red Planet, head on over to the official website.
Remember to check back here in a few months to see our First Martians: Adventures on the Red Planet review! In the meantime, here's a video of Ignacy Trzewiczek talking about the game: