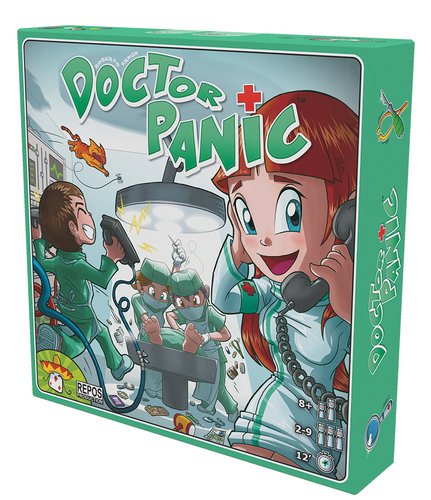 Number of Players: 2-9, Game Length: 12 minutes, Ages: 7+
Expected Release Date: April 21
From Asmodee:
Is there a doctor in the house? Take your place the wackiest hospital you've ever seen in Doctor Panic, a dexterity-based, cooperative real-time game for two to nine players. You don't need a medical license to play, but it might help-you and your team are going to be working against the clock to save a patient's life. It won't be easy, but you've never given up on a challenge and you're not about to start now! In every game of Doctor Panic, teams of up to three doctors follow a soundtrack and work as fast as possible to complete their medical tests. Each game lasts only twelve minutes, but you'll need every second to use your medical gear to complete the various procedures and save your patient.
---
We are all about family-friendly cooperative games here at Co-op Board Games, and Doctor Panic is one that we definitely plan on checking out. Repos Production – known for hits such as Ghost Stories and 7 Wonders – is the publisher, so we're expecting families to get a kick out of it. We especially like that it is a quick and chaotic game that can be played by up to nine players. It almost seems like a new-age Operation, which could be awesome!
We'll have a Doctor Panic review written up once we get our hands on it!
Doctor Panic will be coming soon to Cool Stuff Inc., and you can pre-order it now!
Watch the funny promo for Doctor Panic here: