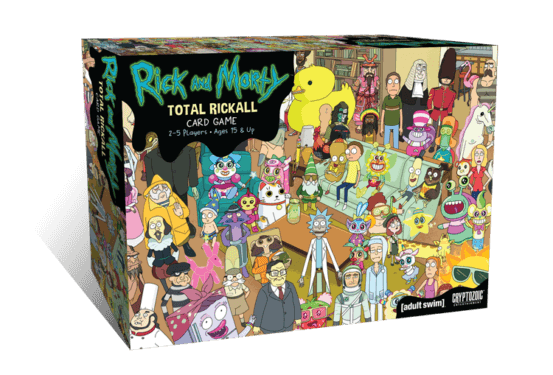 Release Date: June 2016, Number of Players: 2-5, Game Length: 30+ minutes
---
From Cryptozoic:
The Total Rickall Card Game is based on the Rick and Morty episode of the same name. Players can still play this wild and wacky game and have plenty of fun even if they have never watched the program. Easy to learn and mimics the action and hilarity of the Rick and Morty Episode "Total Rickall". There are two game modes: Cooperative Mode for 2-5 players or Hidden Roles Mode for 3-5 players, each with a playing time of 30 minutes.
Well, they say that you will enjoy Rick and Morty: Total Rickall even if you haven't seen the show, but we think you NEED to see this show. It is fantastic, especially this episode and "Meeseeks and Destroy."
We're not expecting this to be the best co-op game ever, but we'll probably have a blast playing it since we're all fans of Rick and Morty. Personally, I can't wait to see the artwork on the cards and the hilarity that ensues when we try to figure out who the parasites are.
It will be available this summer, and you can preorder Rick and Morty: Total Rickall at Cool Stuff Inc. right now. If you want to see a little more info on the game, check out the official page.
Don't forget to come back in the summer to check out our Rick and Morty: Total Rickall review! (edit: As promised, here's our review!)
Here's a promo of the episode the game is based on: