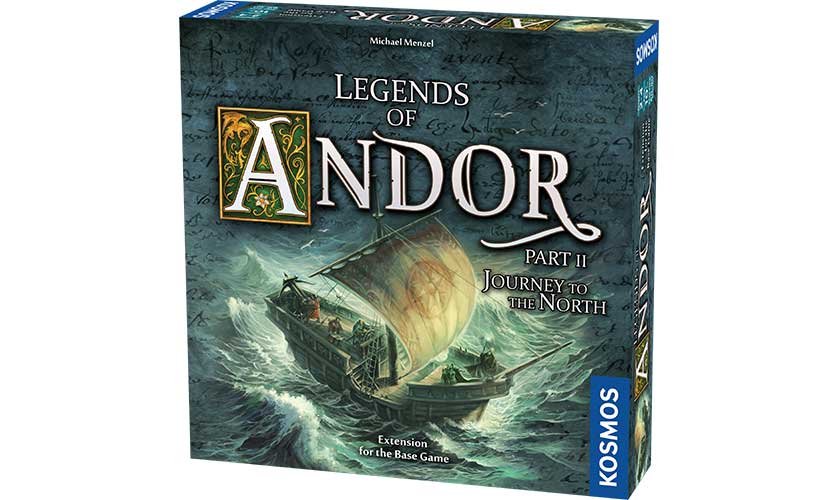 Release Date: August 2016, Number of Players: 2-4, Game Length: 60+ minutes
---
From Thames & Kosmos:
After many years of living in peace, the heroes of Andor receive a new cry for help — this time from distant land of Hadria. You immediately step aboard an old sailing vessel to embark on a perilous journey to the north. After you have properly equipped your ship, you discover strange islands and must work together to protect their coasts from terrible sea monsters. Soon thereafter you find yourselves in the midst of thunderous storms. You must persevere against the unbridled forces of the sea. And a great secret will be uncovered during your journey.

This expansion for the highly awarded and beautifully illustrated Legends of Andor offers four legends with new challenges, new heroes, and new creatures. Along with the base game, this is a cooperative role-playing adventure game for two to four players.
It's finally getting its English release!
Now THIS is an expansion we can't wait to play! If you've seen our Legends of Andor review, you'll know that we always have a blast playing this game. In fact, the base game nearly made it onto our top cooperative board games list.
Like most people, though, we felt that it was in need of a full expansion. Getting four new adventures and new heroes should give Legends of Andor fans many more plays of this awesome game. Oh, and it comes with a new board, too!
You can preorder Legends of Andor: Journey to the North at Cool Stuff Inc., and it's set to be released on August 15. It came out a few years ago in other countries, so you can see what some of those lucky people have thought about it over at BoardGameGeek.
We'll have our Legends of Andor: Journey to the North review up soon after the expansion comes out, so be sure to check back!