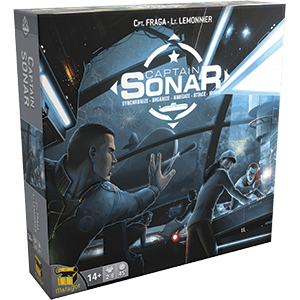 Number of Players: 2-8, Game Length: 30-60 minutes, Ages: 12+
Expected Release Date for Captain Sonar: July 2016
From Asmodee:
Captain Sonar is an innovative real-time game that challenges two teams to take their submarines head-to-head in a thrilling battle. Your ultimate goal is to find and destroy your opponent's submarine, but this task is far more difficult that it may first appear. Your entire crew must work together to chart a course, charge systems, locate the enemy, and keep your own submarine fully operational. Communication and teamwork can lead you to victory, but if you fail to cooperate, you'll be sunk to the bottom of the ocean!
What seems pretty cool about Captain Sonar is that it might be a bit like Space Alert, but on a submarine rather than a space ship. Obviously it's going to have a few unique mechanics thrown in, but we are definitely interested in any game that is similar to Space Alert. We are huge fans of the real-time mechanic since it adds so much tension, and that should definitely be the case in a game set in a sub!
The game is also going to come with multiple modes and maps, which means that people who end up enjoying it will have plenty of unique gameplay to look forward to.
It looks like there will be plenty in the box, so the $42.49 price tag on Cool Stuff Inc. doesn't seem too bad at all.
Here's a look at what one of the Captain Sonar boards might end up looking like:
If you want to read more info about Captain Sonar, check out the official page.
Be sure to come back for our Captain Sonar review once it's released!