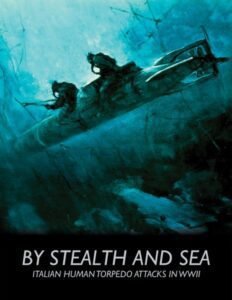 Release: August 2020 | Players: 1-3 | Ages: 10+
From BGG:
By Stealth and Sea is a tactical solitaire or cooperative game that takes place during the Battle of the Mediterranean in World War II.

In By Stealth and Sea, you lead elements of an Italian commando frogmen unit called Decima Flottiglia MAS. Under your command, teams of frogmen will pilot manned torpedoes in attacks against the Royal Navy in the heavily guarded harbors of Gibraltar, Algiers, and Alexandria.

By Stealth and Sea's campaign system features all nine key historic manned torpedo attacks by the Decima Flottiglia MAS against the Royal Navy. During the campaign, you can advance your technology and train your frogmen. But the Royal Navy responds to successful attacks by improving their defenses.

The remarkable accomplishments of the Decima Flottiglia MAS served as a model for other special forces assault units for years after World War II. Will you be able to match these historic results? Or will you succumb to the defenses of the Royal Navy?
After enjoying both Warfighter and Pavlov's House, I want to try every co-op war game that DVG puts out. Plus, I'm excited to play a nautical-themed cooperative game since there really aren't that many out there right now. I have a feeling that at least a couple of people in my group are going to be big fans of By Stealth and Sea, so I'm looking forward to getting it to the table.
For a bit more info on By Stealth and Sea, check out its Kickstarter page or its BGG page. It's also available for pre-order right now at Miniature Market.
Remember to check back here soon to see our By Stealth and Sea review!
---
To stay updated on all things cooperative board games, follow us on Twitter, Facebook, or via RSS.
---