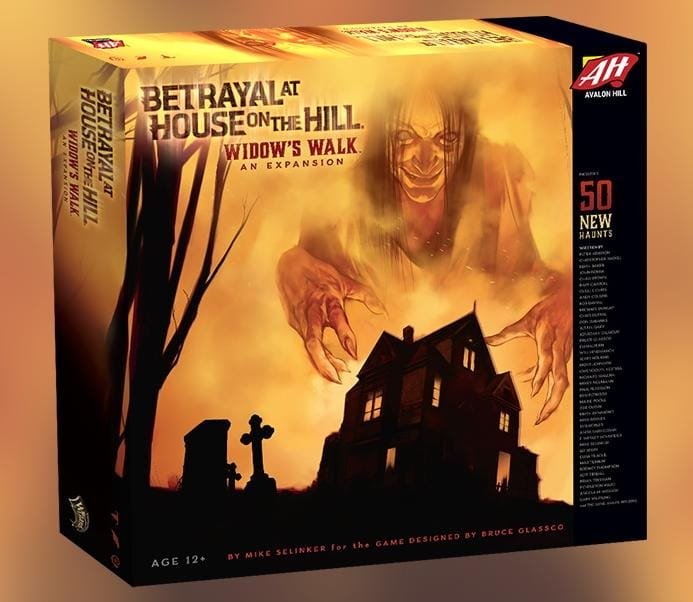 Number of Players: 3-6, Game Length: 60+ minutes, Ages: 12+
Expected Release Date: October 2016
From Wizards of the Coast:
The house on the hill has a wicked reputation. Those who dare to darken its door often leave steeped in madness and despair—if they leave at all.

Now the horror reaches new heights with Widow's Walk—the first-ever expansion for the critically acclaimed board game Betrayal at House on the Hill. The house is expanded with the addition of 20 new rooms, including the roof, a previously unexplored floor. Also in its halls you will find new monsters, items, omens, events, and 50 brand-new haunts, penned by lead developer Mike Selinker's all-star cast of contributors from the world of gaming and entertainment. In Widow's Walk, terror and panic are taken to a whole new level.
If you've seen our Betrayal at House on the Hill review, then you know that we are very happy about this news. Even though the base game already has a ton of replay value, this expansion will allow veterans of the game to have fresh experiences with it.
The original books and cards were very well written and made the game stand out from the bunch, so it will be great to see all of the new content. We can't wait until October!
If you want to read more info about Betrayal at House on the Hill: Widow's Walk, check out the official page.
Make sure you come back to Co-op Board Games for our Betrayal at House on the Hill: Widow's Walk review once it's released!