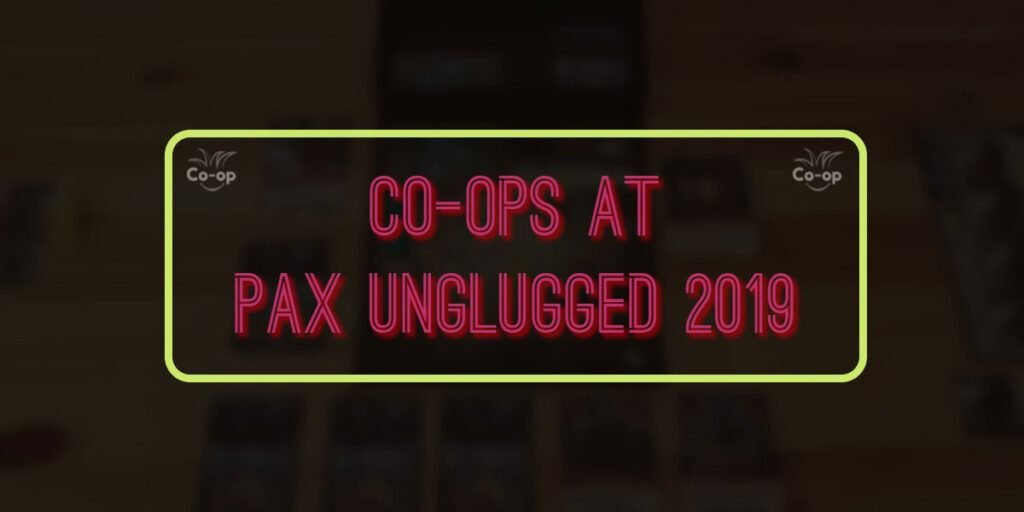 ---
PAX Unplugged (Dec. 6 – Dec. 8) is an annual tabletop gaming convention held in Philadelphia that has board games, events, panels, and plenty of other fun stuff for gamers to enjoy. It's known as one of the best conventions to attend for open gaming, but there are also plenty of publishers there ready to show off and sell their new board games.
Below are just about all of the cooperative board games that will be at PAX Unplugged 2019. I left off expansions and any games that came out last year. For the complete list of games that will be at the convention, check out the BGG GeekPreview.
Even if you're not going to PAX Unplugged this year, you can still look through the list to find out about the new co-op board games that are available to buy right now and some big games that will be coming out next year!
---
Demos
These games won't be available for sale, but people will be able to test them out at the convention.
---
Masters of the Night
Publisher: Ares Games
Play as a member of a Vampire family, just arrived after a long journey in a new, unfamiliar city. Will you survive and establish your rule? Who are the mysterious Agents trying to stop you? Masters of the Night is a fully cooperative board game for 1 to 5 players.
Links: BGG
---
Endangered
Publisher: Grand Gamers Guild
The march of humankind's progress has threatened the survival of many species. It's up to you and the team to save them! Work with your fellow conservationists to save a species (tigers, sea otters) from extinction. Influence the UN Ambassadors to pass a resolution protecting the animals and stopping environmental destruction. If four UN ambassadors vote yes on the resolution then the players win, but until the vote takes place, players need to keep the destruction at bay, and keep the animals alive!
Links: BGG
---
The Crew: The Quest for Planet 9
Publisher: KOSMOS
In the co-operative trick-taking game The Crew: The Quest for Planet 9, the players set out as astronauts on an uncertain space adventure. What about the rumors about the unknown planet about? The eventful journey through space extends over 50 exciting missions. But this game can only be defeated by meeting common individual tasks of each player. In order to meet the varied challenges, communication is essential in the team. But this is more difficult than expected in space.
Links: BGG
---
Paint the Roses
Publisher: North Star Games
Paint the Roses is a cooperative deduction game for 2-5 players. You need to use strategy, logic and teamwork to win. On your turn, you take one tile and put it in the garden to try to give your teammates information about your card and to get information about your teammate's cards. Correctly guess what is on the cards to advance. The Queen will be chasing after you, and if she passes you, she will take your heads along with her, but you win if you complete the garden without losing your heads.
Links: BGG
---
Return to Dark Tower
Publisher: Restoration Games
A "sequel" to the 1981 grail game, Return to Dark Tower is a cooperative game for 1-4 players who take the role of heroes. Together, they gather resources, raise buildings, defeat monsters, and undertake quests to build up their strength and discern what foe ultimately awaits them. When the heroes face the tower, the game shifts into its dramatic second act, where the players have one chance to defeat the enemy once and for all.
Links: BGG
---
Coraline: Beware the Other Mother
Publisher: WizKids
Coraline: Beware the Other Mother is a co-operative card game for 1-4 players, based on the beloved stop-motion animated film from director Henry Selick, best-selling author Neil Gaiman, and acclaimed animation studio LAIKA. It tells the haunting tale of a young girl's journey to an alternate version of her life, and her heroic return to reality. Now, you can bring this iconic story to your tabletop!
Links: BGG
---
For Sale
These games will be available to purchase at PAX Unplugged 2019.
---
Meeple Party
Publisher: 9th Level Games
Meeple Party is a cooperative game of puzzle-solving strategy and party-throwing insanity for 1-5 players. As roommates in the house, you and your fellow players move guests by welcoming them and mingling them around the party to meet your photo opportunity goals. Each time you meet a photo opportunity, you take a photo! Photos keep the party going. Each photo moves the party time clock forward, and your goal is to get through the entire party without all roommates stressing out!
Links: BGG | Review | Miniature Market
---
Slide Quest
Publisher: Blue Orange Games
The bad guys have taken over our beautiful kingdom in Slide Quest, and it's in total chaos! You have to save the world and quickly! Work together to guide this brave, rolling knight through this turbulent adventure that is lined with twists and traps!
---
Letter Jam
Publisher: Czech Games Edition
Letter Jam is a 2-6 player cooperative word game, where players assist each other in composing meaningful words from letters around the table. The trick is holding the letter card so that it's only visible to other players and not to yourself. By doing so, each player gradually learns what letters they're holding. At the end of the game, by filling in the blanks, and rearranging their letter cards, everyone has to find the word hidden within these cards, still without looking at home. In the end, the more players managed to create an existing word, the bigger their common success!
---
Atlantis Rising (second edition)
Publisher: Elf Creek Games
Atlantis Rising is a co-operative worker placement game in which you must work together with up to five other players to deploy citizens across your homeland, gathering resources in order to build a cosmic gate that can save your people. Workers placed close to the shoreline are more rewarding, but are more likely to be flooded and the actions lost.
---
Secrets of the Lost Station
Publisher: Everything Epic Games
Secrets of the Lost Station is a cooperative game of sci-fi, action-adventure, and exploration, that is a highly detailed and unique sequel to Secrets of the Lost Tomb, set thousands of years into the future!
Links: BGG
---
Aeon's End: The New Age
Publisher: Indie Boards & Cards
Aeon's End: The New Age introduces the Expedition system into the Aeon's End universe which allows players to replay all of the content they own in a short campaign format. After each game, players will receive new treasures and player cards that allow them to become more powerful. However, the nemeses that players will face grow stronger and stronger with each battle.
---
The Sherlock Files: Elementary Entries
Publisher: Indie Boards & Cards
The Sherlock Files: Elementary Entries includes three confounding cases for you to solve. First, you need to discover the cause of a fatal heart attack aboard Flight TJ1309. Next, you dig up a cold case from 1923 involving the violent and unexpected death of a famous explorer and archaeologist. Last, unravel the story behind the mysterious body that put a damper on one family's 4th of July party.
---
Adventure Games
Publisher: KOSMOS
In each of these titles, players are presented with a mysterious story that they must unravel over the course of play. Working together, players explore common areas, talk to people, look for clues, and combine various items to reveal the secret of the story. Depending on what decisions the players make, the course of history changes and there is no going back!
Unlike the co-operative EXIT: The Game series, titles in this series focus on the telling and discovery of the story with no time pressure. That said, many different paths can be experienced during play, with more than one correct resolution to the story waiting to be discovered. Each title consists of three chapters, each taking about 75 minutes to play. Nothing is destroyed, so the games can be played multiple times.
---
Cities: Skylines
Publisher: KOSMOS
Bring your team of urban planners together in this cooperative city-builder, and with increasing complexity as your city expands, the game is suitable for the newcomer and connoisseur alike!
---
Monsieur Carrousel
Publisher: LOKI
Cooperate with your friends to help the kids boarding the wonderful Merry-Go-Round of Monsieur Carrousel! Place them into the carousel according to the color of your die, and let them enjoy a spin! Will all the children have the chance to go for a spin before it starts to rain? What a ride!
---
Zoo Run
Publisher: LOKI
Line up cards to form animals and help them escape (cooperative mode for ages 4 and up) or win the race of the year (competitive mode for ages 6 and up)! Two games in one!
The main mechanics of the game is to use specific cards: on the left are 3 animal butts, on the right are 3 heads: of a lama, a panda, a turtle, an elephant or a lynx.
To win, place your cards face up on the table and try to find the best combination of those cards in order to complete the most animal.
Links: BGG
---
Mental Blocks
Publisher: Pandasaurus Games
Mental Blocks is a game of puzzling perspectives, with players trying to complete a puzzle using oversized foam blocks, despite seeing only one perspective of the design. You have to co-operate to complete the puzzle as a team, but you have a time limit, so don't just sit around staring at the pieces. In addition to the time pressure, players have other challenges, such as not being able to talk or to touch certain color blocks.
---
Aftermath
Publisher: Plaid Hat Games
Aftermath is an Adventure Book Game in which players take on the role of small critters struggling to survive and thrive in a big, dangerous world. Humans have mysteriously vanished, and the remnants of civilization are quickly being reclaimed by nature and the animals who still remain.
---
Quirky Circuits
Publisher: Plaid Hat Games
Quirky Circuits is a game of robot programming silliness in which each player contributes to the programming of an adorable robo-friend. But be warned — no one knows which commands the other players will be tossing in! Will you be able to help the little robot complete its task, or will you unleash automated mayhem? Be careful for you'll have to work together before your robot's battery is drained! With 21 scenarios of increasing intensity, Quirky Circuits is guaranteed to provide hours of brain-bending fun.
---
The Aquicorn Cove
Publisher: Renegade Game Studios
In the co-operative game The Aquicorn Cove Board Game, 2-4 players take on the roles of members of a small fishing village struggling to survive while maintaining a balance with the natural world. To win, the villagers must feed and grow their village, while helping to restore the health of the reef and aquatic ecosystem. The villagers are fortunate, though, and the waters of their cove are home to the beautiful and benevolent aquicorns, as well as the wondrous reef guardian Aure, who can help them both to understand the impact humans are having on the environment and to save the village.
---
Power Rangers: Heroes of the Grid
Publisher: Renegade Game Studios
Power Rangers: Heroes of the Grid gives each player the chance to take the role of a Power Ranger, the heroes of Angel Grove who defend the earth against the evil Rita Repulsa and her nefarious minions. Each Ranger comes with a unique combat deck representing their special skills and fighting style. From the Red Ranger's leadership karate skills, to the Yellow Ranger's Sabertooth ferocity, to the Blue Ranger's tactical mind, each ranger brings a unique set of skills to the table. You need to use your powers well if you intend to save Angel Grove!
---
Set a Watch
Publisher: Rock Manor Games
In Set a Watch, a cooperative game for 1-4 players, you must clear out nine locations to stop the acolytes from breaking the seals holding back the evil Unhallowed. Every round you will visit a new location and pick an adventurer to rest and take camp actions. The rest of the party will take watch and battle a line of monsters trying to make their way into camp using your dice and unique character abilities. Manipulating the creature line is essential to solving each round's combat puzzle. It is a battle to stay alive and keep the campfire burning! Use your wits and skill to fight for the light…or all will perish in the darkness.
---
Robotech: Brace for Impact
Publisher: Strange Machine Games
Robotech: Brace for Impact is a real-time cooperative game that can get a little intense. Players each have a hand of cards representing problems that need to be solved. However, they must work with at least one other crew member to complete their actions. The timer is ticking and players must begin to fix their ship and return fire immediately. At the same time, the Zentraedi player will be using tactics cards from their hand, attacking with their fleet, and trying to take down the SDF-1. Can you survive the final 10 minutes of this intense firefight and save humanity?
Links: BGG
---
Fire!
Publisher: Stronghold Games
The Aliens attack, and only you can defend Earth. Charge your Weapons and destroy all Aliens, before you lose too much energy! Level by level, danger raises … are you ready to accept the challenges, and win all 9 Levels?
In Fire! you can play either in Solo Mode, playing all 9 Levels on your own, or in Team Mode, fighting cooperatively with a friend against all Aliens!
Fire! uses the Fable Game™ system introduced in Fabled Fruit. With the presorted deck of cards and a rules booklet separated in 9 sections, you will discover all 9 challenging Levels step by step. You can reset the game at any time and play it again!
Links: BGG
---
Nemo Rising: Robur the Conqueror
Publisher: WizKids
Nemo Rising: Robur the Conqueror is a co-operative board game that follows the new adventures of Captain Nemo and the crew of the Nautilus, as reintroduced by C. Courtney Joyner in his novel, Nemo Rising. The game allows 1-4 players to assume the roles of the protagonists of the series — Captain Nemo, Sara Duncan, Adam Fulmer, or Ulysses S. Grant — as they explore new worlds, overcome dangerous obstacles, and complete challenging missions.
---
Thanks for taking the time to read our PAX Unplugged 2019 preview! To stay updated on all things cooperative board games, follow us on Twitter, Facebook, or via RSS.
---