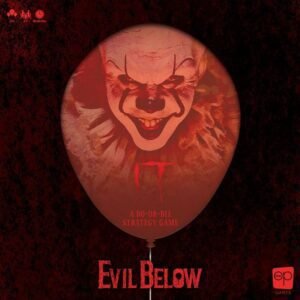 Release: August 2019 | Players: 2-7 | Minutes: 40-60
---
From USAopoly:
Outsmart Pennywise once and for all in this do-or-die cooperative strategy game. Based on the horror film classic It, take on the roles of The Losers' Club to stop this looming threat from terrorizing the town of Derry. Defeat him or die trying – it's up to you.
There isn't too much information out there about It: Evil Below yet, but it looks like it'll be a pretty straightforward dice and card game. The theme definitely works for a co-op game. I think the board looks pretty nice and I'm looking forward to seeing how the different sets of cards work.
For a bit more info on It: Evil Below, check out it's BGG page. You can also pre-order the game from Game Nerdz or Amazon.
Remember to check back here soon to see our It: Evil Below review!
---
To stay updated on all things cooperative board games, follow us on Twitter, Facebook, or via RSS.
---