---
We'll be keeping this page updated throughout the year. (Last Updated: October 30, 2018)
---
Pretty much everyone in our group loves deck building games, and so do plenty of other people. Competitive games like Dominion and Star Realms have been top sellers because people seem to like having that feeling that they are designing their own decks.
Unfortunately, there really weren't that many cooperative deck building games to choose from until a few years ago. Well, it seems like designers have realized that people like co-op deck builders because a lot of them have been popping up recently and more are on the way.
Since there aren't a ton of cooperative deck building options out there right now, it was tempting to add a few that used just a little bit of deck building. Rather than doing that, though, we decided to stick with just straight-up deck builders in the main list.
So, with that being said, we think these are the best cooperative deck building games out there right now:
---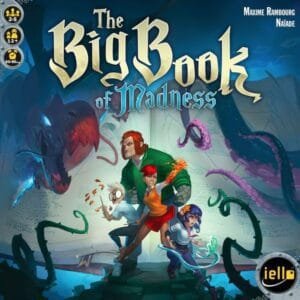 Year Published: 2015 | Number of Players: 2-5

What's great about The Big Book of Madness is that it is very easy to teach, yet it is deeper than it looks. It's also a lot more challenging than you would think. We've played this game a lot and have only beaten it on the easiest level a couple of times.
As far as deck building goes, The Big Book of Madness does an excellent job of giving players a chance to pick cards based on their characters, who all have different starting decks.
Read our The Big Book of Madness review!
Get your copy of The Big Book of Madness here!
---
Year Published: 2015 | Number of Players: 1-4

XenoShyft: Onslaught is very tough to beat, but it's not a frustrating game. It's the type of game that doesn't allow you to breathe too much, but it's straightforward enough to where you always have a pretty good idea about what you are supposed to be doing.
What's great about XenoShyft is that it is a perfect mix of cooperation and deck building. You will be adding troops and items to your deck throughout the game, but the game pretty much forces you to want to help everyone on your team. If you don't work together, you will have no shot at beating this game.
Read our XenoShyft: Onslaught review!
Get your copy of XenoShyft: Onslaught here!
---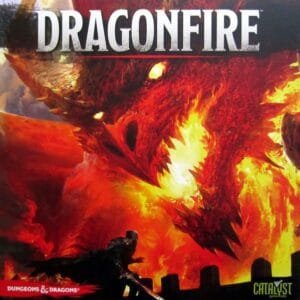 Year Published: 2017 | Number of Players: 2-6

Dragonfire is the only game on this list that has a campaign, allowing you to follow an ongoing story and to build up your characters to be stronger in future playthroughs. You start out as very basic characters, but you'll be able to buy cards from a shared market as the games move forward. This allows you to create the characters that you want to play with and that you think will give you the best chance of winning.
Some people might like Shadowrun: Crossfire a bit more than Dragonfire. It's made by the same people, uses similar mechanics, and it's set in the Shadowrun universe. We really could have put either game in this spot, but Dragonfire feels a bit more polished and forgiving (Shadowrun: Crossfire is extremely tough).
Read our Dragonfire review!
Get your copy of Dragonfire here!
---
Year Published: 2014 | Number of Players: 1-5

We're obviously huge fans of Legendary Encounters: Alien considering it's in our favorite co-op board games list. It's fun, it's intense, and there's always the potential for an epic moment. While you can't go wrong with any of the Legendary board games, this one has been the biggest hit with us.
Easily the best thing about the deck building in this game is that you usually don't have an obvious choice. You have to think about the aliens that are going to pop up, but you also want to give your deck as much balance as possible. It's also pretty great that your "recruitment" options change from game to game and from turn to turn.
Read our Legendary Encounters: Alien review!
Get your copy of Legendary Encounters: Alien here!
---
Year Published: 2016 | Number of Players: 1-4

Aeon's End takes cooperative deck building to a whole new level! It introduces a unique deck building mechanism, and each nemesis creates different problems for your team to deal with. Sure, we wish there were more bosses to fight in the base game, but there's still plenty of replay value since you can randomize the cards that are in the supply and the bosses have multiple difficulty levels.
Anyone who loves fantasy board games will get a kick out of this one. It's challenging, has a great amount of cooperation, and it's one of those games you'll spend plenty of time talking about after each playthrough.
Read our Aeon's End review!
Get your copy of Aeon's End here!
---
Honorable Mentions
Here are some other great games, some of which use deck building as a secondary mechanism:
Legendary: A Marvel Deck Building Game – This is a must-have for fans of Marvel fan. Even after 20+ plays, it's still a ton of fun for us to fill up our decks with the hero cards we think will give us the best chance to take down the villains. (read our Legendary: Marvel review)
Pathogenesis – This is possibly the most thematic co-op deck building game we've played. You get to play as pathogens attacking a human body, with the immune system fighting back each turn. You can only play this cooperatively with two players, but it also plays well solo and it has a competitive mode. (read our Pathogenesis review)
Harry Potter: Hogwarts Battle – If you're a Harry Potter fan and also happen to like deck builders, this is an obvious choice. Plus, there is a lot more cooperation in this game than in most other co-op deck builders. One person in our group actually thinks this is the best deck building game out there right now. (read our Harry Potter: Hogwarts Battle review)
Paperback (Co-op) – Most people think of Paperback as a competitive game, but it actually has an excellent solo/cooperative variant in the rulebook. People who love word games need to own this one. (read our Paperback review)
What are your favorite cooperative deck building games? Let us know in the comments!