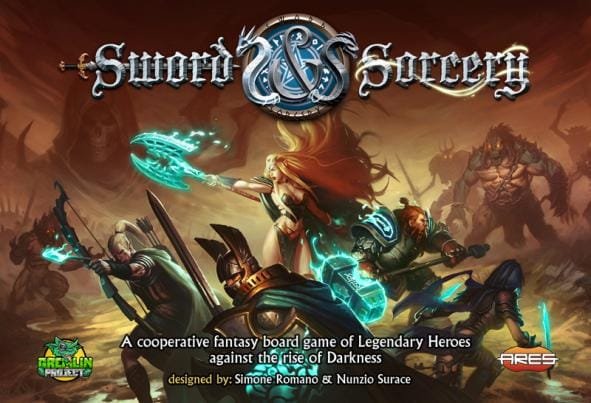 Release Date: January 2017, Number of Players: 1-5, Game Length: 60+ minutes
---
From Ares Games:
Sword & Sorcery is an epic-fantasy cooperative board game in which 1-5 players fight together against the forces of evil, which are controlled by the game system itself.

Each player controls one or more heroes – legendary characters brought back to life by powerful sorcery. Weakened by the resurrection, they grow stronger during their story-driven quests. By acquiring soul points during battles, the heroes' souls regenerate, restoring their legendary status with multiple powers, magic and soul weapons, and powerful artifacts.
Following its successful Kickstarter campaign in which over $500,000 was raised, Sword & Sorcery will soon be available to the masses. We're fans of Galaxy Defenders, which was designed by the same people, so we're definitely looking forward to playing this one. We're hoping that it has that same open world feel that GD has. The miniatures and cards look great, gameplay seems solid, and it doesn't look like it will be too tough to learn or teach.

You can check out the official Sword & Sorcery page and get updates on their Facebook page.
Don't forget to come back here in the new year to see our Sword & Sorcery review!
---